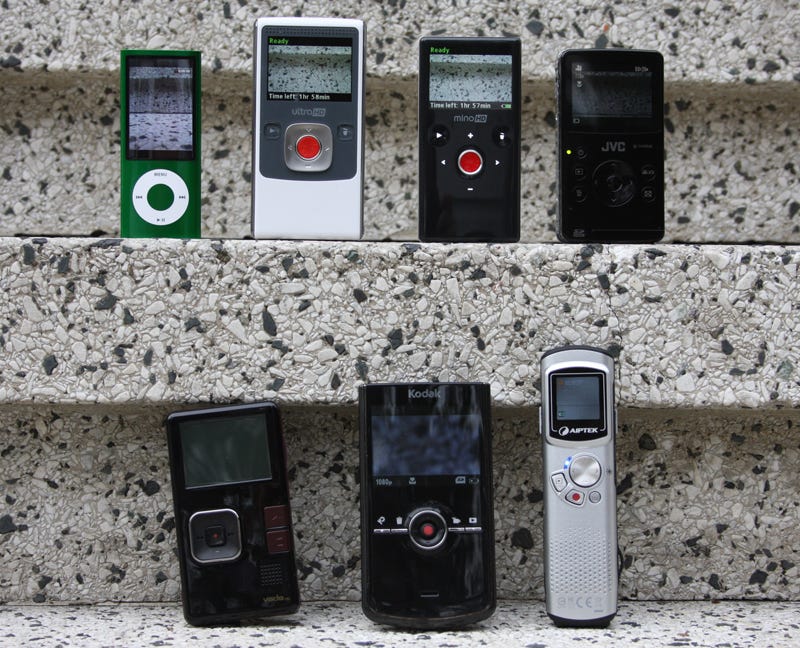 Pocket camcorders are a hot holiday gift, but due to their nearly identical feature sets, it can be tough to tell which is best—so I tested seven of these humble unitaskers to make your decision easier. You're welcome.
Pocket camcorders (AKA mini cams or budget cams, or sometimes Flip cams after the pioneer of the category) are simple gadgets. They've got one job to do: Shoot watchable video, often for uploading to streaming video sites. They're also very close to the end of their lifespan, with perhaps only a year or so left before smartphones make them obsolete, but right now they're the easiest and cheapest way to take quick and dirty video. I tested seven of these diminutive camcorders, or more accurately six camcorders and one capable PMP, in five categories: Outdoor, indoor, low light, macro, and sound.
The criteria for judging fell mostly to smoothness of video during motion, image sharpness, noise, and color reproduction. Specs like storage capacity, screen size and battery life are mostly the same across the board, although overall, compared to last year, this crop of mini cams are faster and stronger, with beefed up memory and HD sensors. All save the iPod Nano take 720p video (or better) and add HDMI ports and more memory to accommodate the higher-quality footage. Yet I wasn't really all that thrilled with any of the camcorders—the bar for these cams is so low you could trip over it, and several of them actually did. Battery life was disappointing across the board, as none could break two hours of filming. Anyway, on to the results!
Results
Choosing between the Kodak Zi8, Flip Mino HD and Flip Ultra HD is tricky. The Zi8 is unreliable, but when it's good it's unbelievably good; the Mino HD is diminutive, solid and stylish, but overpriced and with lousy touch controls; and the Ultra HD is a reliably good shooter with a low price and the best controls of all, but physically unappealing (read: fat as hell). In my opinion, you should never judge a book by its obese cover, so the champion is...the Flip Ultra HD!
Flip Ultra HD: First Place

Flip's Ultra HD is the best overall choice. It's one of the cheapest cams around (at $150, it's $70 less than it's younger brother, the Mino HD), but it tied for the highest score in our lineup, and it features nice tactile controls that I much prefer to the sleeker Mino HD's touch-sensitive exercise in frustration. Unfortunately, the Dom DeLuise HD is upsettingly fat—about twice as thick as the Mino HD, but even that doesn't really get across how truly large it feels in the hand. It's not particularly heavy, but it is by a long shot the thickest pocket cam here. On the plus side, that girth hides a useful battery—Flip includes a rechargeable pack, but the John Candy HD can also use two AA batteries, which is great since pocket cams have generally abysmal battery life (usually about an hour, though of course they're often rated for double or triple that). Replaceable, cheap batteries are really nice, but some will have to decide whether the William Howard Taft HD's girth is worth that feature. Given its price, I think it is.