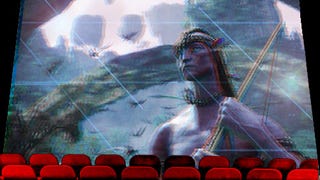 Like millions of others, I saw Avatar last weekend. I loved it—despite the 3D, not because of it. Admittedly, my seat was shitty and I wear eyeglasses, but if the experience isn't guaranteed, 3D will fail. Updated
Even after arriving 40 minutes early and waiting in line, the only undefended territory left was right up in front. You may say you'd have stormed out and demanded a refund, but due to work and parenthood, I get a chance to see about three movies per year in the theater, and those have to be slated well in advance. If I didn't see Avatar at that time and place, I'd have had to wait for it to show up on Blu-ray—or at least wait till after CES. And hey, at least the seats reclined way back, to avoid the stiff neck.
I have endured movies in the front row before, and yes, it's annoying. You can't take it all in, you have to look around. But when you add 3D glasses into the mix, it's not just "annoying." It's "cerebrally disruptive." Any shift of your eyes has to reorient your brain, and since you're constantly shifting your eyes, you get a series of fleeting illusions combined with a lot of image jolts and jerks. Taking off my 3D glasses, I realized that the typical crappy front-row experience would have been peaceful and easy by comparison. Get this straight: Front row for 3D is 10X worse than front row for other movies.
There was another problem. I was wearing 3D glasses on top of my own glasses, which I need to see. I am not the only person in the world who chooses to wear eyeglasses instead of getting contacts or Lasik surgery. You'd think the 3D industry would plan for this sizable segment of the population. But the light playing between my glasses and the Dolby 3D glasses created weird holograms, floating text and images. I thought at first it was Cameron pulling a JJ Abrams and throwing a bunch of lens flare streaks into the mix, but no, if I adjusted the relative position of the two glasses, they images would move or disappear, at least momentarily. It was reflections of the movie projection bouncing off of my glasses and back onto the inside of the 3D glasses.
An LA Times story mentioned that Dolby 3D glasses were particularly ill-suited for people who are already wearing eyeglasses—hopefully other 3D providers are smarter when it comes to their four-eyed little friends.