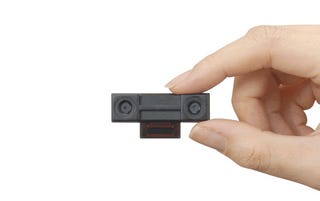 Designed for mobile devices such as phones, digital cameras or even netbooks, Sharp's 3D camera module will start mass production this year—meaning within the next couple of years we could be shooting image-popping HD 3D video.
While Sharp isn't known for phones in our parts, if you walk into any store in Japan you'll be bowled over by dozens of their candy-colored models. These 3D cameras could first be trialled in Japan, but if successful be licensed out to other manufacturers to tantalize us with eye-popping possibilities.
The obvious question, of course, is why you'd want a 3D camera on your phone in the first place? Fujifilm's FinePix Real 3D W1 digital camera hasn't exactly taken off (do you know anyone who's even considered buying one, let alone laid down 600 big ones for it?), so why should a 3D video camera on a phone?