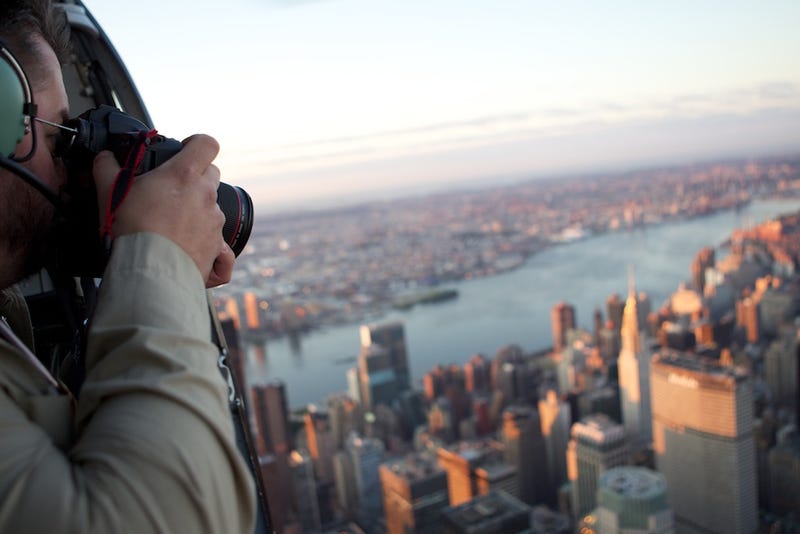 I'm riding shotgun in a surprisingly roomy helicopter cockpit with Vincent Laforet, one of the foremost practitioners of DSLR video, over New York City. I've never ridden in a helicopter. The asphalt below fades from black to grey.
* * *
It's the first of July, but a weird cold snap has left me shivering. I walk with my knees almost locked in place, that kind of fast robot walk I only ever see in New York. I really don't want to be late.
It's also chilly because it's 4:30 in the morning. The Empire State Building is turned off, like the last human being has finally gone to sleep. Behind the sanitation trucks lining the gross industrial stretch of West 30th St. leading to the heliport, the sky is fading into orange and yellow behind inky clouds, from the ground up. Sunrise. That's what we're chasing.
Vincent Laforet is the accidental dean of DSLR video. A Pulitzer Prize-winning photographer for the New York Times in what might as well have been a former life. Canon's 5D Mark II set Laforet on a totally different path. His short film "Reverie" was the first ever made with the 5DMkII, heralding a new era of amateur filmmaking. Suddenly, a $2,700 camera—now, a $1,000 camera—could produce stunning, professional-looking video in insane lighting conditions once too challenging for consumer equipment. Vincent became a filmmaker. He's won a Gold Lion at Cannes in the 57th International Advertising Festival. (One of his pet projects at the moment is "Beyond the Still", a user-generated HDSLR film—they're looking for entrants for the final two chapters.)