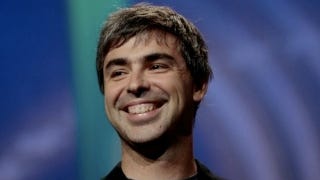 In a wholly unexpected move, Eric Schmidt is stepping away from his position as Google CEO to make room for co-founder Larry Page. Schmidt will move into an Executive Chairman role. But why? And what does it mean for you?
According to Schmidt:
Larry will now lead product development and technology strategy, his greatest strengths, and starting from April 4 he will take charge of our day-to-day operations as Google's Chief Executive Officer. In this new role I know he will merge Google's technology and business vision brilliantly.
The third leg of the triumvirate, Sergey Brin, will take the title of Co-Founder, focusing on new products.
That's the official statement. But Schmidt hinted at what's really going on in this tweet announcing the news.
It's hard to imagine that Schmidt ever saw himself as just a placeholder, particularly having been with Google for a decade. And Schmidt will actually continue fulfilling most of his "adult" duties in his new capacity, focusing "on the deals, partnerships, customers and broader business relationships, government outreach and technology thought leadership that are increasingly important given Google's global reach." You know, grown-up stuff.
That's increasingly been Schmidt's primary function anyway; now it's his sole obligation. And in today's earnings call, Schmidt explicitly said he didn't expect "any material change in any of [Google's] strategies."
If anything, it could really be that Page has outgrown some of his immaturity—he once famously brushed off Barry Diller in a meeting in favor of playing with his phone—and is ready to be more forward-facing. But by all accounts, Page has always been deeply involved in the direction of the company. The new title shouldn't make him any more or less so. It's just that: a title.