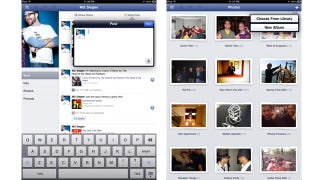 Apple may have talked about some new stuff today, but there are plenty of things it said nary a word about. Facebook apps? Sprint iPads? Resolving multiple Apple IDs and MobileMe accounts? C'mon!
Facebook App for iPad
Seriously, WTF is stopping Facebook from releasing this thing. Their full site sucks in Mobile Safari. Their touch site sucks in Mobile Safari. The scaled up iPhone app looks like shit, but it's somehow infinitely more functional. I thought they would use one of the biggest tech events of the year to gift upon us what they withheld at f8. Nope.