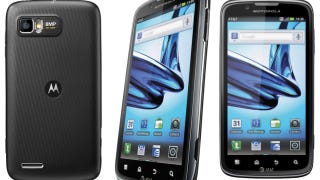 Sweet Jesus. AT&T is adding five new Android phones to their portfolio this week. That will bring them up to 19 Android devices in for 2011. The 'droid is strong with this one.
Here they are in order that you probably care about them:
The Motorola Atrix 2
When the original Morola Atrix was announced at CES back in January it had as calling it the best Android phone in the show. It was a real beefcake, and it could power a laptop dock (which we thought was cool for like five seconds). It really was an excellent phone (full review). Truth be told, the Atrix 2 isn't the most monumental upgrade we can image. The biggest difference is that it has AT&T's answer to 4G (HSPA+) which should give you theoretical download speeds of 21Mbps. It's no LTE, but it's significantly faster than 3G. It's camera has gone from 5 megapixels to 8 megapixels, and it's now capable of recording 1080p HD video. And the screen has been stretched to 4.3 inches from the original Atrix's 4 inches. While more screen real estate is good, they both have 960x540 pixels, which means pixel density will actually be worse on the new bigger screen. Hrmm... that sounds a lot like the screen on the Droid Bionic, which we were none too keen on.