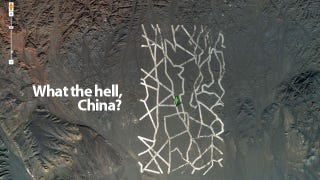 This is crazy. New photos have appeared in Google Maps showing unidentified titanic structures in the middle of the Chinese desert. The first one is an intricate network of what appears to be huge metallic stripes. Is this a military experiment?
Update 1 & 2: readers are finding even more weird stuff.
Update 3: some unidentified agency, company or person has been ordering hundreds of photographs of this area since 2004. Check out that story here.