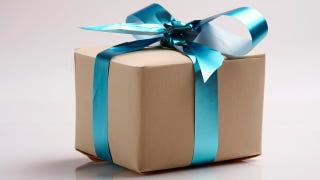 Your Christmas shopping might be done, but you can't just stick plain boxes or department store bags under the tree. You now have to wrap everything you so it looks like you actually put some thought into your gifts.
So here are seven ideas that will not only make the process a little easier, but are sure to make your gifts stand out.
One of the secrets to spending as little money as possible on wrapping paper is to use it as efficiently as you can. And if lasers can give sniper rifles pinpoint accuracy, they can certainly do the same for scissors.
You'll never have to worry about wandering off line, or creating a horribly crooked cut with these laser guided scissors. Powered by a set of cell batteries they'll keep your slicing straight and true, whether you're hacking away at gift wrap for a present, or cleaning up your bangs for a party. $16
The goodness of bacon ensures it will never become a tiresome cliche. So if you hand a gift to a friend who balks at this mouth-watering cooked bacon gift wrap, I'm pretty sure they're someone you don't want to be friends with.
Paying $4 for just two sheets of 20 by 30 inch wrap is a little steep. But only until you remember it's made to look like bacon—mother nature's most perfect food. Now keep in mind your gift won't measure up if someone else happens to use real bacon as wrapping, so if you're hoping to make a great impression, a trip to your butcher is the only real option. $4 for two sheets
Nothing says "Merry Christmas, look how baller I am" than a package that uses crumpled up benjamins instead of packing peanuts. But until your friends are arrested for trying to spend them, they won't know this Financial Padding is actually fake currency.
They come in stacks of 200 bills which you'll have to crumple yourself—annoying, I know. But they're sure to leave a lasting impression of your insinuated wealth, or complete irresponsibility with your savings. $15
QR codes haven't gotten as popular as we were told they would be. But they occasionally come in useful, like as a way to turn a wrapped present into fifty more gifts.