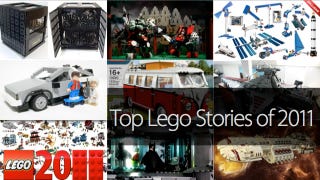 You can build just about anything out of LEGOs these day if you've got the patience and enough bricks—from 9,000-piece Batcaves to 6-foot-long Battlestars. Here are the ten most awe-inspiring builds from 2011.
---
Star Wars! Ninjas! Pirates! Aliens! Race cars! Mummies! Castles! Dragons! All made off delicious bricks. Hot off the magical Lego Factory in Billund, Denmark, here are all the Lego sets for the year 2011 in one epic roundup.
---
What do I love about Lego bricks? The limitless possibilities represented by an unassembled pile. Oh, and specifically when that possibility turns into raw, unadulterated, lumberjacking dragon-powered stop-motion hardcore metal awesomesauce.
---
The space shuttle Endeavour blasted off into space for the last time in in May, carrying the Alpha Magnetic Spectrometer and the ExPRESS Logistics to the ISS. But more importantly, it carried Lego to space for the first time in history. These are the sets.