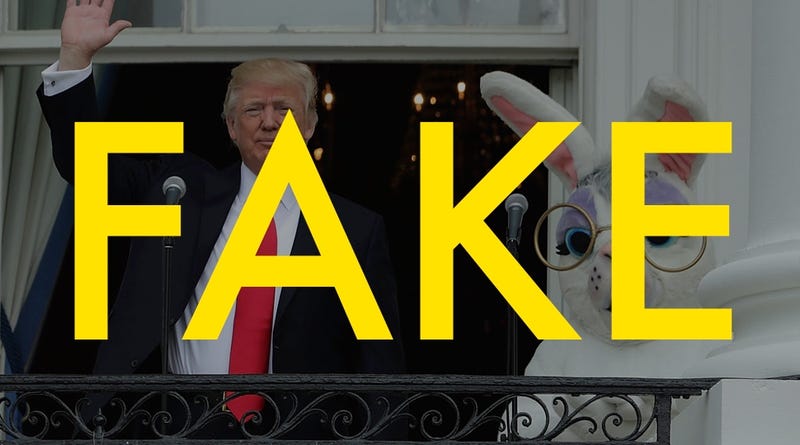 We've been debunking fake photos at Gizmodo since 2013, but in the year 2017, the fakes seem to be spreading online faster than ever. Here are just a few of the images we've seen swirling around the internet lately. And none of them are what they appear to be at first glance.
1) Is this a real CNN breaking news alert?
Did you see this perfectly timed news alert about presidential advisor Steve Bannon accepting a new role in the White House? It turns out it was a bit too perfect. Which is to say it was totally fake.
The CNN screenshot went viral after it was tweeted by a TV producer named Melissa Jo Peltier. The joke, of course, is that it looks like CNN is inadvertently announcing Bannon has accepted a new role at the White House as the Easter Bunny.
It turns out that the image was actually created by the social media team at The Daily Show with Trevor Noah and was tweeted out earlier in the day. The show made the same joke last night without the CNN breaking news bit. If you look in the upper lefthand corner you can even see a faint watermark for The Daily Show. It's funny, but totally fake.
Fake via Twitter
---
2) Is this Marilyn Monroe and Elizabeth Taylor?
The internet loves Marilyn Monroe. But the internet is filled with tons of fake Marilyn Monroe photos. So you can probably guess what we have to say about the photo purporting to show Marilyn and Elizabeth Taylor above. That's right, it's phony.