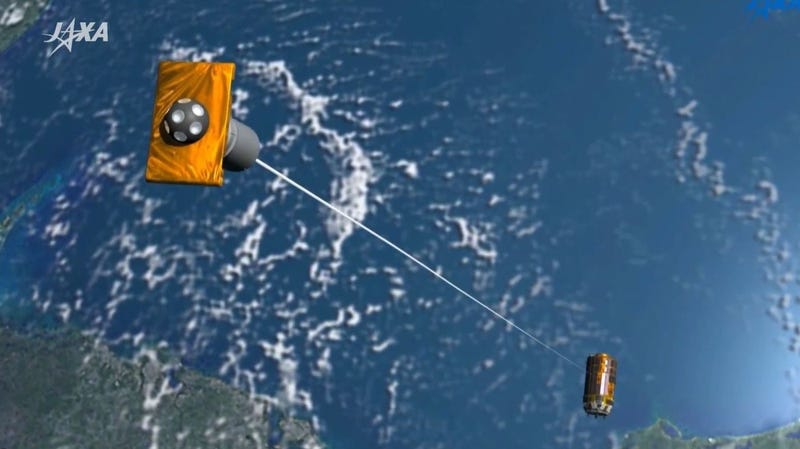 An experimental Japanese mission to remove dangerous debris from orbit has ended in failure. It's a frustrating setback given the mounting risks posed by the nearly two million bits of junk currently swirling around our planet.
Scientists at the Japan Aerospace Exploration Agency (JAXA) were trying to test an experimental system in which a long cable would be deployed from the Kounotori 6 satellite and directed towards a piece of space debris. Once attached, the tether would slow down the object, forcing it to re-enter into Earth's atmosphere where it would burn up. The test of the new system got off to a rocky start when mission planners couldn't even deploy the cable.
The need for an effective space-based garbage removal system is starting to get pressing, so this failure is not just a setback for JAXA, it's a setback for the global community. There are about 20,000 pieces of tracked debris currently in orbit. But there are potentially millions (yes, millions) of bits of smaller items swirling around the Earth, too. These objects include everything from discarded tools to debris from solid rocket motors, paint flakes, and even frozen coolant from nuclear-powered satellites. Whipping around the planet at high speeds, tiny bits of space junk pose a hazard to equipment and human life.