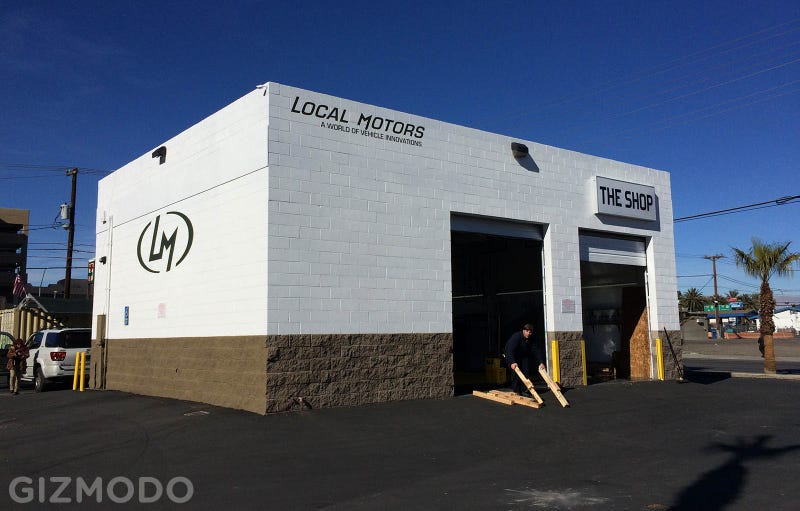 Gizmodo had the pleasure today of stopping by the future Las Vegas factory, autoshop, office, and cafe space for Local Motors, easily one of the most innovative vehicle-design outfits in the country.
The company justifiably prides itself on its "co-creative" approach and its "microfactory" network of smaller shops and independent designers, all pooling ideas for future vehicles. The microfactory model "allows for the creation and production of new vehicles based on local needs," they explain, and they have already set up in 130 countries.
The company's approach is as much about producing the most bad-ass vehicles you'll see offroad today as it is about pioneering news forms of international design collaboration, fully rethinking that most boring of all business endeavors: the supply chain.
You can upload your own designs to their database and immediately connect with other designers, tinkerers, technicians, and engineers who might share your vision for tomorrow's supercar; and, through local and global collaborations, even the most outlandish vehicle designs can be realized.
Along these lines, Local Motors has an interesting track record of sponsoring and hosting speculative vehicle design competitions, including the awesomely imaginative Terra Prix 2085. Terra Prix asked designers "to imagine the world in 2085 and design a racing vehicle and support craft capable of completing the Terra Prix—a race around the world traversing all 7 continents and involving nearly every terrain imaginable." As this might indicate, to think of them as just some new car startup misses their uniquely gonzo approach to independent, DIY vehicle design.
In their new Las Vegas space—still under construction and only set to open next month, in February 2014—Local Motors will run a regular shop for their own vehicles, with individual bays for different cars and bikes currently under development. At the moment, the shop space is just an open room stuffed full of merchandise and oil barrels, as they get ready to finish the renovation and open their doors next month.
Perhaps you've already seen their Rally Fighter, a broad-shouldered bulldog of a rally car with some of the sickest and most aggressive lines in automotive design today.
Inside the future shop space, one version of the Rally Fighter was parked—and it is a shockingly massive vehicle, a hulking fist of metal, bead-lock wheels, and 33" tires that over-shadowed me in the fluorescent light of the space. I practically had to stand on tip-toe just to get a shot of the interior.
Only 2,000 of these cars will ever be made—and they're not cheap, unfortunately, rumbling toward a garage near you for a mere $99,900—but, where you'll be going with this thing, you won't need roads. The Rally Fighter, in all of its many variants, will get you basically anywhere, whether streets lead there or not. It is, you might say, its own infrastructure, capable of bombing all over the planet, as the premise of the Terra Prix 2085 implied.