Gizmodo had the pleasure today of stopping by the future Las Vegas factory, autoshop, office, and cafe space for Local Motors, easily one of the most innovative vehicle-design outfits in the country.
The company justifiably prides itself on its "co-creative" approach and its "microfactory" network of smaller shops and independent designers, all pooling ideas for future vehicles. The microfactory model "allows for the creation and production of new vehicles based on local needs," they explain, and they have already set up in 130 countries.
The company's approach is as much about producing the most bad-ass vehicles you'll see offroad today as it is about pioneering news forms of international design collaboration, fully rethinking that most boring of all business endeavors: the supply chain.
You can upload your own designs to their database and immediately connect with other designers, tinkerers, technicians, and engineers who might share your vision for tomorrow's supercar; and, through local and global collaborations, even the most outlandish vehicle designs can be realized.
G/O Media may get a commission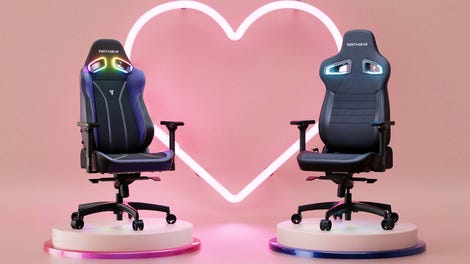 Up to $150 off
Vertagear Gaming Chairs
Along these lines, Local Motors has an interesting track record of sponsoring and hosting speculative vehicle design competitions, including the awesomely imaginative Terra Prix 2085. Terra Prix asked designers "to imagine the world in 2085 and design a racing vehicle and support craft capable of completing the Terra Prix—a race around the world traversing all 7 continents and involving nearly every terrain imaginable." As this might indicate, to think of them as just some new car startup misses their uniquely gonzo approach to independent, DIY vehicle design.
In their new Las Vegas space—still under construction and only set to open next month, in February 2014—Local Motors will run a regular shop for their own vehicles, with individual bays for different cars and bikes currently under development. At the moment, the shop space is just an open room stuffed full of merchandise and oil barrels, as they get ready to finish the renovation and open their doors next month.
Perhaps you've already seen their Rally Fighter, a broad-shouldered bulldog of a rally car with some of the sickest and most aggressive lines in automotive design today.
Inside the future shop space, one version of the Rally Fighter was parked—and it is a shockingly massive vehicle, a hulking fist of metal, bead-lock wheels, and 33" tires that over-shadowed me in the fluorescent light of the space. I practically had to stand on tip-toe just to get a shot of the interior.
Only 2,000 of these cars will ever be made—and they're not cheap, unfortunately, rumbling toward a garage near you for a mere $99,900—but, where you'll be going with this thing, you won't need roads. The Rally Fighter, in all of its many variants, will get you basically anywhere, whether streets lead there or not. It is, you might say, its own infrastructure, capable of bombing all over the planet, as the premise of the Terra Prix 2085 implied.
But beyond the Type A masculine aggression of the Rally Fighter, the pop-up "Mobifactory" that the team just rolled out is a genuinely fascinating experiment in flexible, on-the-go fabrication—indeed, even the U.S. Army thinks so, as they have contracted Local Motors to develop forward-operating parts repair, fabrication, and resupply units for its troops.
Built to fit inside a shipping container, with a pop-up roof and a slide-down exterior wall that will open up the space inside, the Mobifactory will also, in its civilian guise, act as a shop, stocked with everything from beer glasses to t-shirts, and a small cafe.
The surreal coffee-making apparatus they've got set up there is like something out of medieval alchemy and suitably tech-centric for the Local Motors crowd: the elaborate glass coils and holding flasks not only brew from cold water but take an astonishing 12-16 hours to brew coffee. The results are apparently so pure and so concentrated that they have to be cut with cold or hot water to create a regular cup (and to avoid giving you a heart attack).
I'm well aware that many of you will know exactly what this thing is, but I had never seen it before.
The interior itself, meanwhile, is designed to resemble the fuselage of a cargo plane.
But should you be more of a two-wheel type, fear not: Local Motors is also developing at least two bikes worth your attention.
One is the Ariel Cruiser. This motorized bicycle—it's not really a motorcycle—is a great example of how a Local Motors project works. First, there is a crowdsourced call for ideas; then there is the crowdfunding stage. The winning, successfully funded design gets the green light, of course, at which point sourcing and fabrication can begin.
In their own words:
Now that the Ariel has been [the] selected bike in the Motorized Cruiser challenge, it's time to start bringing this bike to life!

The goal here is to build the bike so that it maintains as much of the original design aesthetic as possible, while being sized for the largest segment of the market, being structurally sound, and being something we can produce economically.

Along these lines, we have begun sourcing potential parts for the bike, trying out different powertrain options, and generally selecting the best combination of off the shelf parts to use, which will dictate a lot of how the custom fabrication comes together.
Their other two-wheeled creation, which I sadly have no photos of, is an absolutely freaking awesome motorcycle known as the Racer. Actually, I'll grab a shot from their own webpage, because this thing is so rad:
Images courtesy Local Motors
This one is still not cheap, coming in at $18,750, so it will have to remain pure eye candy for most of us, but it's a gorgeous rethinking of the Harley Davidson Sportster.
This, too, was crowdsourced. As Local Motors explain, "The Racer began its journey to reality in The Forge, as the LM Community, taking cues from DP Customs' previous work, created and submitted over 150 new and unique motorcycle design proposals based on a classic Harley Davidson Sportster. After weeks of peer critique and iteration, the Del Prado Brothers met with members of the Local Motors team and chose the winning design that needed to be built above all the others."
For those of you in Las Vegas for CES, you'll get to see the Rally, Ariel, Racer, Verrado, and Mobifactory starting tomorrow; check out CES's own information to find the exact locations and times. Their approach to local fabrication combined with collaborative international funding & design—all while pushing vehicle tech in a bold, durable, DIY direction—is well worth more people's attention.