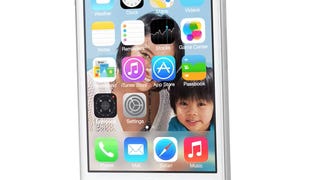 The new iOS 7 is here. Jony Ive's first iOS—minimalist, elegant, devoid of the infantile artifice that infected its recent incarnations. It's pretty impressive. And here's everything you need to know about it.
Here's a video that summarizes it:
Flat design, grid, 3D layers and gestures
The iOS interface has been completely revamped. That means everything, from the typefaces to the built-in applications to the color schemes to the icons. There's nothing left from the old iOS. This is one of the cornerstones of iOS 7, according to Ive himself:
The interface is purposely unobtrusive. Conspicuous ornamentation has been stripped away. Unnecessary bars and buttons have been removed. And in taking away design elements that don't add value, suddenly there's greater focus on what matters most: your content.
Indeed, the overall effect is that: there's no wasted ink here, as Edward Tufte would say. It's all data and indispensable interface elements. The use of color is a tool on its own, only appearing when it's useful, to highlight data or give user experience clues.
But, more importantly, iOS now has focus, with a standard grid that runs across the springboard to the applications.
The overall result seems simple and quite beautiful. For the first time, iOS looks like part of the devices, rather than an outdated add-on.
Parallax Effect
Ive has organized iOS 7 in layers, using the motion sensors in the device to give a real sense of 3D depth. As you move the phone, the layers move in 3D space—you can appreciate the parallax effect, which gives an impressive sense of depth.
The OS uses translucency to further enhance the effect, putting things that are not in use behind what the user needs to focus on; when a dialog pops, it does so on its own layer on top of what you were previously looking at. The previous layer recedes back, establishing a clear relationship between the elements being displayed on the screen.
Control Center
At last. There's now a Control Center available from everywhere: just swipe up from the bottom of your device and it will appear. From there you can toggle airplane mode, control your music, access your camer, your calculator, put it in sleep mode, toggle Wi-Fi or Bluetooth.
Multitasking
It's now available to all applications. You can browse through open apps live, by sweeping your finger over the screen. They appear like cards (a la Palm's webOS). To dimiss an app, just throw it up. A move that reminds me of Windows Phone 8, but in reverse.
The iOS learns the users' habits. It knows what your favorite stuff is, and prepares apps so they are ready before you open it, so they open really fast. I don't know how this works, but it probably uses magic extracted from Phil Schiller firm buttocks' sweat.
Notification Center
Its layout is better, with three different views: today, all and missed. The today view gives you a snapshot of all that's cooking in your current day, including your calendar and the weather. Much better than the previous mess.
The notifications will be synched across all your iOS 7 devices, so you don't have to dismiss them several times.
Siri
In addition to its obligatory redesign—showing a pretty sound wave—Siri got new voices, including a male one, in different languages. They have made it smarter too. You can say increase the brightness or play my last voicemail and it will understand.
They have integrated services like Twitter, Wikipedia and even Bing, Microsoft's search service.
Car integration
Siri—and iOS—can now connect to the screen of your car too. iOS will display a special interface in your car's screen. Siri will take orders, read and dictates messages and emails, and do all that Siri does while showing the results on screen. The car integration in iOS 7 will be supported starting with 2014 models of car manufacturers like BMW, Mercedes, Chevy, Nissan, Honda, and more.
New Music app
The Music app has been redesigned like everything else. It seems quite more simple and it includes a new feature: iTunes Radio. It works like Pandora, and is free (although ad-supported). There's no ad-free subscription option as yet.
Photo and Camera Apps
A new simple layout that doesn't reduce every photo to a tiny icon. The app will automatically organize your photos by Collections, Moments and Years. You will be able to see the photos you took last week or at one specific locations, making some photos bigger than others.
The camera comes with different support format, including square, which I guess is now officially a thing thanks to Instagram. Of course, it also has filters.
New AirDrop
Like its desktop counterpart, AirDrop will let you share anything in your phone very easily with other phones or desktop computers, over Wi-Fi or Bluetooth. According to Apple, it's encrypted so nobody except the NSA can look at it.