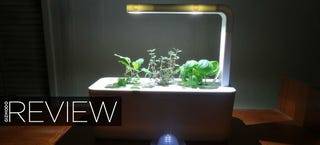 Does your backyard herb garden perpetually look like General Sherman just marched through it? Don't worry, the Smart Farm from Click and Grow takes all of the guess work (and 95 percent of the work work) out of producing fresh produce.
What Is It?
It's a self-illuminated, hydroponic, indoor herb garden.
Why Does It Matter?
Just because your semi-subterranean studio apartment has virtually no natural light doesn't mean you can't grow fresh herbs.
Design
It's a white box about the size of a loaf of white bread, more rectangular and a bit taller than last the last Click and Grow we took a look at (not to mention a whole lot more productive). Its three pod ports sit under an extendable boom of LED lights and above the system's water reservoir. There are no user controls (the lights cycle automatically on an 18-/6-hour rotation) though you will have to check the reservoir's discrete bobber every couple of days to ensure that it is still full.