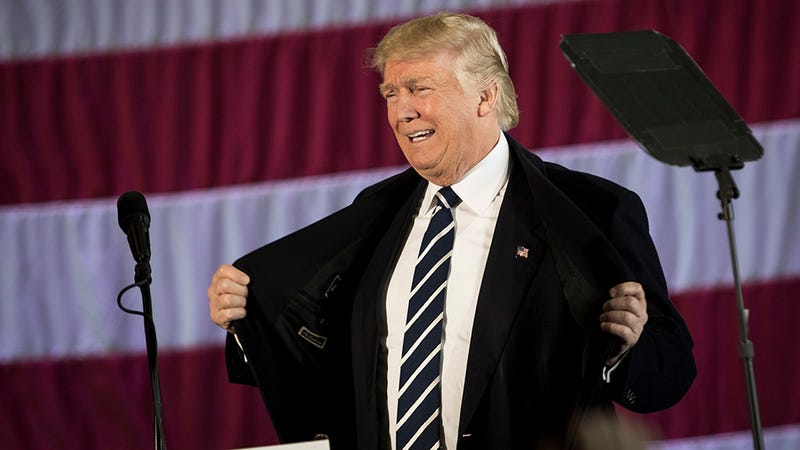 A remarkable thing occurred today. It was a Sunday morning, and instead of critiquing last night's Saturday Night Live, Donald Trump decided to talk about all the things he's going to change. He talked about lots and lots of things—including climate change.

It has been a bit confusing to decrypt the slow drip of tweets about his actual plans for destroying the environment when he takes office. For approximately three minutes and 43 seconds, Trump spoke to Chris Wallace about climate change and factors relating to climate change.
Mr. Trump recently tweeted, "If the press would cover me accurately & honorably, I would have far less reason to 'tweet.' Sadly, I don't know if that will ever happen!" So, today, we're going to make history! Below you'll find every word he said in the section about climate change during his interview this morning with Chris Wallace on Fox News. If you're looking for someone to edit this bullshit down and make it sound coherent, look elsewhere. This is the no spin zone. Read his words and weep.
[quotes inside grey boxes belong to Trump and are unedited, in chronological order.]
On taking "a wrecking ball to the Obama legacy":
No, no I don't want to do that at all, I just want what's right. EPA you can't get things approved. I mean people are waiting on line for 15 years before they get rejected. Okay?
Okay.
On making America more like Mexico:
That's why people don't want to invest in this country. I mean, you look at what's going on. And you can look at a jobs report but take a look at the real jobs report. Which are the millions of people that gave up looking for work and their not considered in that number that's less than 5 percent. Okay?
Okay.
I mean, we have jobs that are in the pipeline. And I deal with all the executives, the big ones and the small ones—I have really gotten to know this country. And when you have to wait 10 and 15 years for an approval and then you don't even get the approval, it's no good. So, we're gonna clean it up; we're gonna speed it up. And by the way, if somebody is not doing the right thing we're not gonna approve.
On meetings with Al Gore and Leonardo DiCaprio:
They were good meetings.
Good.
On appointing a man who hates the EPA to be the head of the EPA:
Speed up the process.
On appointing a man who is currently suing the EPA to be the head of the EPA:

Sure!