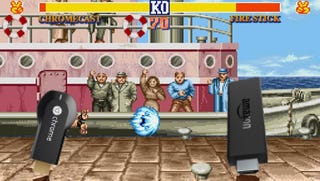 Amazon just announced the Fire TV stick, a cheap streaming media dongle, which looks a lot like Google's Chromecast, and the Roku streaming stick. But there some important differences that might make each device slightly better suited to different people.
We'll have a full review of the Fire TV stick soon; you can check out our Roku and Chromecast reviews as well. But in the meantime, there's still plenty to dissect as far as what each of these streaming dongles can offer.
Specs
Specs aren't everything, but it's worth noting that the Fire TV Stick is positively juiced compared to its competitors. It's got 8GB of built-in flash storage and 1GB of memory, compared to 2GB of built-in storage and 512MB of memory on the Chromecast, and 256MB of storage and 512MB of memory on the Roku Streaming Stick.
That extra memory should make the Fire TV Stick cruise faster than its competitors. The built-in storage might not mean much—these are built for streaming more than storing—were it not for Amazon's ASAP service, which automatically downloads stuff Amazon predicts you're likely to watch so that you don't have to wait for the content to buffer.
Additionally, the Fire TV Stick uses dual-band Wi-Fi, where the others only have single band Wi-Fi. Still, rumor has it the Chromecast is about to get a Wi-Fi boost.
Functionality
Each of the three dongles gets you access to an enormous world of media over Wi-Fi, but each goes about it a little differently. We'll dig into the particulars in more detail below, but here's the basics of how each device works.
Chromecast: You can beam content over to your TV using a smart device or your computer. Some apps come Chromecast-ready, so they jump over to your TV with sweet native smoothness. You can also beam anything that's running in a Chrome browser over.
Roku Streaming Stick: You primarily interact with the Roku Streaming Stick through a TV-based interface. You navigate through different channels using either Roku's app or the included remote. There's some limited mirroring, too.
Fire TV Stick: Basically splits the difference between Roku and Chromecast. There's an on-screen interface you use to navigate content from downloaded apps, a bit like the stick's grown-up Fire TV sibling. You can also beam stuff over from your phone.
Here, it's also worth mentioning Microsoft's $60 wireless display adaptor. It doesn't do apps. It only mirrors, and it's not really competitive with the products we're discussing in this post.