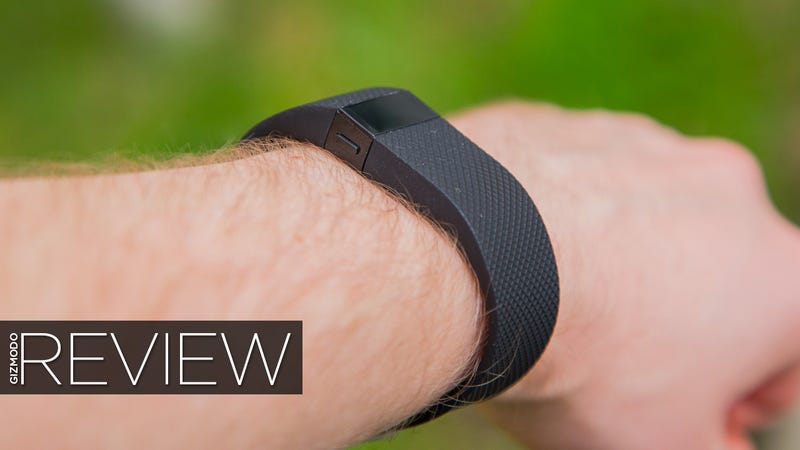 Fitbit is such a tease. In October, the company announced three new fitness trackers just in time for the holiday gift-giving season—but decided not to ship two of them till 2015. Well, having now spent time with the Charge, Charge HR, and Surge, we believe the Charge HR is the one you want.
The $150 Fitbit Charge HR doesn't look like much, and that's generally a good thing. It's a nondescript band (I tested the black one) you wear on your wrist 24 hours a day. While it definitely doesn't look fancy or expensive, it's subtle enough that it'll go with pretty much anything you wear. Unless you get the bright orange version, in which case your fashion problems likely extend far beyond the realm of wearable tech.
Superficially, it's a dead ringer for the normal Charge and the ill-fated Fitbit Force, which was recalled when a few people complained of skin irritation. Which means it's basically just a rubber band with a small LED screen and a single button on the side. The display is small and thin (like the bottom third cut off a postage stamp), and it stays off unless you push the button to wake it up. It also scuffs pretty easily. When it's clean, it's bright enough to read in sunlight, but I'm already having a little difficulty due to early wear and tear.
Physically, there are really only two real differences between the Charge and the Charge HR. The Charge has a half-assed clasp mechanism that made the band absolutely refuse to stay on my wrist when I reached into a bag or took a jacket on or off. It's kind of a miracle that I didn't lose it. The Charge HR, on the other hand, has a standard watch strap with a closure that works like a belt buckle, or any Casio watch you wore as a kid. It's a bit less comfortable (especially when typing) but I got used to it after a couple days, and it's roughly 100 times more secure. I'll take the trade-off.
The most significant difference between the two Charges, though, is the Charge HR's namesake heart rate monitor. Flip 'em over and take a peek at their underbellies, and you'll see the Charge HR has a little bit of a hump. That's what lets it keep tabs on your pulse 24/7. That hump presses into your skin so you don't need to ratchet down the band too tightly. (Our current favorite fitness monitor, the Basis Peak, employs the same trick).