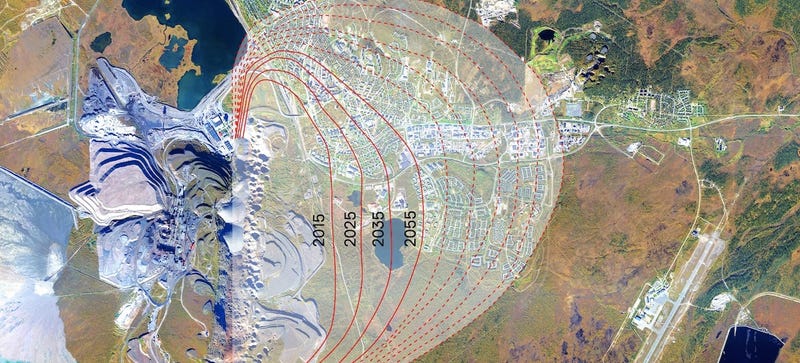 The city of Kiruna, Sweden, is sinking—the iron mines beneath it are making the ground collapse. So, over the next two decades, its 20,000 residents will be relocated, along with their homes, offices, stores, and schools, to another, brand-new city about two miles to the east.
As Sweden's northernmost city, just inside the Arctic Circle, Kiruna is very much a company town: many of the city's residents are employed by the government-owned mining corporation Luossavaara-Kiirunavaara AB (LKAB). In 2004, LKAB announced that mining operations would cause damage to certain buildings on the edge of town, which would thus need to be relocated. Soon the mine's plan evolved so that the entire city would need to move. LKAB has committed over $600 million to the project already and will likely spend millions more than that.
Moving a city due to mining damage is sadly not a unique scenario. But in Kiruna's case, the city acted quickly, turning its situation into a global design competition which resulted in some extremely visionary ideas for its future. The winning proposal, called Kiruna 4 Ever, was created by White Arkitekter AB, and the groundbreaking for the new city center begins this month.