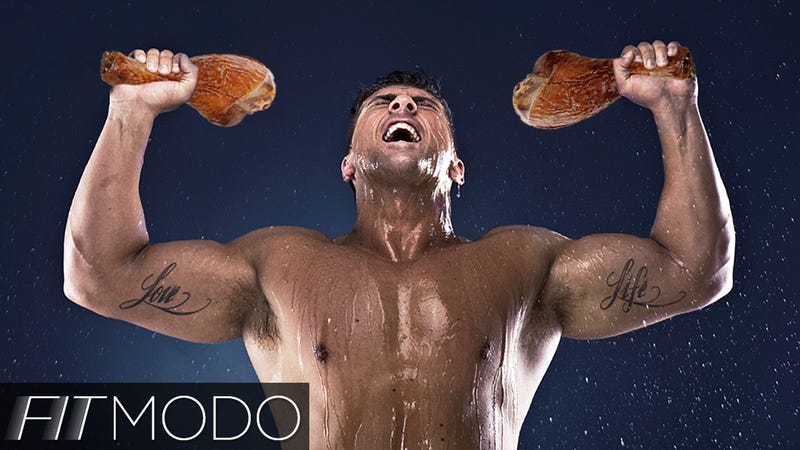 For once, let's not lie to ourselves about how we're going to "take it easy" this Thanksgiving. Most of us are going to give thanks by indulging like gluttonous pigs. It's okay, we can give ourselves a pass every now and then, but let's be real: if we don't want to have more chins on our chin's chins by New Year's, we're going to have to work it off.
But just how much work are you going to have to do? And by doing what? We crunched the numbers so you don't have to.
Welcome to Fitmodo, Gizmodo's gym for your brain and backbone. Don't suffer through life as a sniveling, sickly weakling—brace up and get the blood pumping! Check back on Wednesdays for the latest in fitness science, workout gear, exercise techniques, and enough vim and vigor to whip you into shape.
How Many Calories In?
The jury is out about how much the "average American" actually consumes on Thanksgiving every year. Some claim it's 4,500 calories, others say it's between 3,000 and 5,000 calories. Either way, considering the recommended daily calorie intake is between 1,600 and 2,400 for most of us, it's safe to say that we'll be putting in more than our bodies will appreciate.
Obviously, there are going to be a lot of variables. How big are you, and how much are you going to eat? Is your Aunt Louemma going to cook everything in butter? Are you vegetarian? Vegan? Male or female? Drinking booze or teetotaling? Let's just say, for the sake of argument, that you're going to consume 4,000 calories at your Thanksgiving meal, assuming you're not a competitive eater. That's plenty of good, bad food. Or bad, good food, depending on how you look at it.