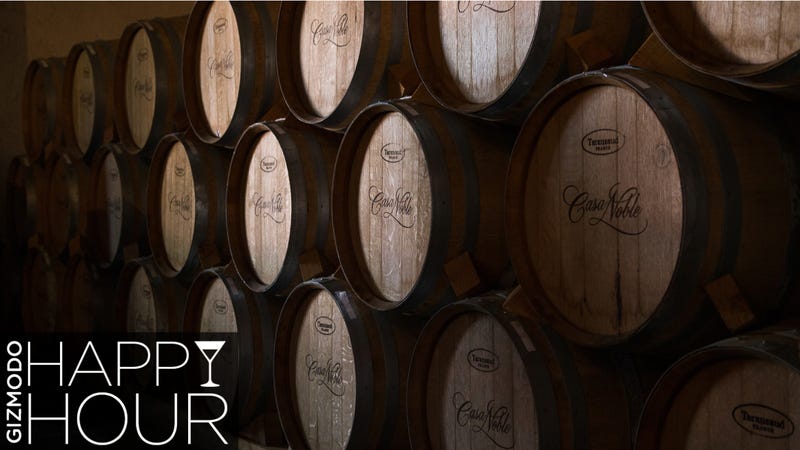 Tequila is a much-maligned spirit here in the United States. Most of us think of it as something so nasty you need to do it in a shot with salt and lime so that you'll taste it as little as possible, or take it mixed into an over-sweet margarita. All of that is changing.
The modern cocktail scene has reignited our interest in Mexico's most-famous booze, and more and more people are realizing what tequila enthusiasts have known for years: There are some unbelievably good tequilas out there. So when Casa Noble—a tequila distillery with a hardcore following—invited us south of the border to see how they make theirs, well, how could we refuse?
It's Friday afternoon, you've made it through the long week, and it's time for Happy Hour, Gizmodo's weekly booze column. A cocktail shaker full of innovation, science, and alcohol. Da-NA-dana-DAna-Da-da, da-Na-Dana-DAna-da. Tequila!
Growing and Harvesting
All tequila starts with the Weber Blue Agave plant, which, contrary to popular belief, is not a cactus. By law, in order to be called tequila, it must be at least 51-percent agave (just as a bourbon's mash-bill must be at least 51-percent corn), but the good stuff is 100-percent pure agave. Those that aren't 100-percent are categorized as mixtos, and they use other sugars for fermentation in an effort to have some smoothness while costing as little as possible to produce.
The agave plants are grown in and near the town of Tequila in the Mexican state of Jalisco. In fact, tequila can only be produced in Jalisco in order for it to be called tequila (Update: Well, actually, it can also come from certain parts of Nayarit, Guanajuato, Michoacán and Tamaulipas). If it's made anywhere else, it must be label "agave spirit" instead. The plants—that look a lot like large pineapples growing on the ground—grow for a minimum of seven years. Casa Noble typically goes 10-14 years, and it's also one of just three USDA certified organic growers... y'know, if that's important to you. The plants are continually stressed and routinely have their flowing stalks (quixotes) cut off to prevent them from flowering and dying. In response to this stress the plants produce more sugars, thus making a sweeter plant.
When they're ripe, the tequila plants are harvested by a jimador (an agave farmer). The harvesting is still done almost exclusively by hand using a tool called a coa. It's basically a long wooden staff with a round blade (also hand-sharpened) at the end. It is shockingly sharp and very effective.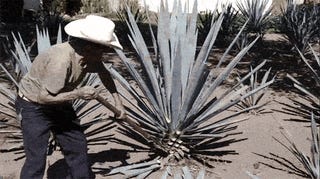 Using the coa, the jimadores cut away all of the leaves from the piña, the sweet heart of the plant, which really does look like a pineapple at this point. The piñas can grow to be 150 to 250 pounds, and each jimador may harvest as many as 150 to 200 plants a day. It's some back-breaking work.
Cooking and Juicing
As soon as possible after harvesting (to ensure freshness), the piñas are put into stone ovens. Steam is piped in from the giant steam generators, and is the only heat that is used. Mescal, on the other hand, is exposed to direct flame, which accounts for its Scotchy smokiness. The agave is steam-cooked in these traditional ovens for 36 to 38 hours, which is basically the time required to convert the starchy carbohydrates into sweet sugars.
I had the chance to taste the agave after it was cooked. It was incredibly sweet and juicy, but it also had an earthiness to it. There were these subtle flavors that you taste very concentrated in tequila, and you think, "Ah, that's where it gets that."
After the piñas cool, they're off to the juicer. Traditionally, this was accomplished by a donkey dragging a large stone over them. Oh, to be young. Today most distilleries use roller mills, which are extremely efficient at extracting almost all the juice. Casa Noble uses a screw mill instead, which presses the the piña with less pressure and is actually much less efficient. So why would they use it? Because it's their opinion that when you press the hell out of the plant it breaks the fibers within it, which release undesirable flavors. That's where a lot of the astringent, nail-polishy flavors in bad tequilas come from. Casa Noble ends up wasting much more plant material, but they're a boutique operation—so, for them, it's worth it.
Once the juice is extracted and transferred to its vat, the solid plant matter is transported to the back of the building where it is allowed to slowly compost. The piles lie in long rows of varying age. You can really see the difference between them. The newer stuff looks like a grassy, sinewy mass, with lots of fibers still visible. The older stuff looks like plain old dirt with the odd fiber still in it. Once it's decomposed enough it is distributed into the farm before new agave is planted.
Fermenting and Distilling
Once the juice (or joose... just kidding) is extracted, it is transferred over to large fermentation tanks. Casa Noble is one of just two distillers that uses natural yeast in their fermentation process, which is slower, but they believe it yields a better result. The mash is fermented for three to five days, depending on the weather. When it's warmer, fermentation will go quicker. In the cooler months, it'll take a little more time.
Around the outer rim of every tank is a perforated blue hose. Water comes through the hose and drips down the outer walls of the tank to help facilitate cooling. Once the mash has fermented enough it's transferred over to the stills.
Casa Noble uses three stainless steel pot stills with copper plates on the inside (which impart some flavor into the resulting spirit). After the first time though the still you are left with ordinario. Trust us when we say that that stuff is harsh. Heads and tails are cut out, as they are with gin and any other distilled alcohol. Interestingly enough, after some experimenting with earlier batches, Casa Noble realized they were cutting out too many floral aromas in their heads and tails, and so they opened them up a little, just to get those back in.