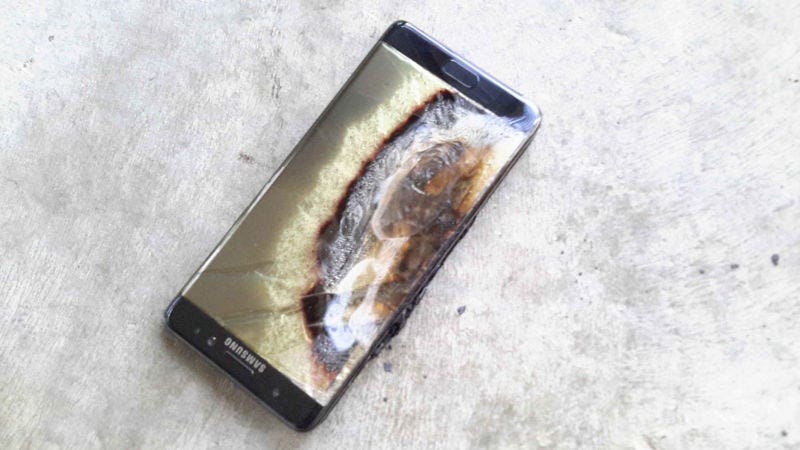 A third replacement Samsung Galaxy Note 7 has caught fire in Kentucky earlier this week. Not only did the incident send the device's owner to the hospital after suffering from smoke inhalation. Someone at Samsung sent him a text that was apparently meant for a colleague: "I can try and slow him down if we think it will matter."
Michael Klering of Nicholasville, Kentucky told WKYT, the local CBS affiliate, that he woke up at 4am on Tuesday, and his room was filled with smoke. It was a recently replaced Galaxy Note 7, and it was burning. "The whole room just covered in smoke, smells awful. I look over and my phone is on fire," Klering said. "It wasn't plugged in. It wasn't anything—it was just sitting there."
Later that day Klering began feeling extremely ill and went to the emergency room, WKYT reports. This is where the story gets grisly.
"I was vomiting black so it was very scary," Klerig said. "It was a lot of black stuff, and it didn't look right." Hospital records provided to WKYT showed that Klering was diagnosed with acute bronchitis.
Klering says he contacted Samsung after the incident, and the company asked to take possession of his Note 7. Klering said he refused, although he did allow the company to pay to have the device X-rayed. (It's unclear why the company wanted the Note 7 X-rayed.)
This is where the story gets crazy. Klering claims that he received a text from a Samsung representative, indicating their knowledge of his situation. The text was apparently not meant for him and sent by accident:
Just now got this. I can try and slow him down if we think it will matter, or we just let him do what he keeps threatening to do and see if he does it.
It's unclear if Klering obtained a replacement phone at that point or how the company texted him. Honestly, the entire narrative is a bit absurd, especially since this incident allegedly occurred a day before a different replacement device exploded aboard a Southwest Airlines flight.