A third replacement Samsung Galaxy Note 7 has caught fire in Kentucky earlier this week. Not only did the incident send the device's owner to the hospital after suffering from smoke inhalation. Someone at Samsung sent him a text that was apparently meant for a colleague: "I can try and slow him down if we think it will matter."
Michael Klering of Nicholasville, Kentucky told WKYT, the local CBS affiliate, that he woke up at 4am on Tuesday, and his room was filled with smoke. It was a recently replaced Galaxy Note 7, and it was burning. "The whole room just covered in smoke, smells awful. I look over and my phone is on fire," Klering said. "It wasn't plugged in. It wasn't anything—it was just sitting there."
Later that day Klering began feeling extremely ill and went to the emergency room, WKYT reports. This is where the story gets grisly.
"I was vomiting black so it was very scary," Klerig said. "It was a lot of black stuff, and it didn't look right." Hospital records provided to WKYT showed that Klering was diagnosed with acute bronchitis.
Klering says he contacted Samsung after the incident, and the company asked to take possession of his Note 7. Klering said he refused, although he did allow the company to pay to have the device X-rayed. (It's unclear why the company wanted the Note 7 X-rayed.)
G/O Media may get a commission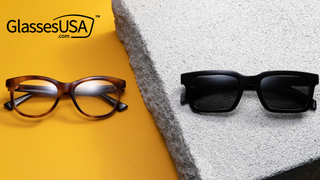 60% off frames
GlassesUSA.com Back to School Sales
This is where the story gets crazy. Klering claims that he received a text from a Samsung representative, indicating their knowledge of his situation. The text was apparently not meant for him and sent by accident:
Just now got this. I can try and slow him down if we think it will matter, or we just let him do what he keeps threatening to do and see if he does it.
It's unclear if Klering obtained a replacement phone at that point or how the company texted him. Honestly, the entire narrative is a bit absurd, especially since this incident allegedly occurred a day before a different replacement device exploded aboard a Southwest Airlines flight.
To make matters worse for Samsung, yet another replacement Note 7 exploded in a 13-year-old girl's hand on Friday in Minnesota. There have also been reports of a 26-year-old woman in Taiwan who had a replacement Note 7 blow up in her back pocket while walking her dog. That incident hasn't been verified outside of a small Taiwanese outlet Apple Daily.
Yesterday, Samsung told the Verge in a statement, "Customer safety remains our highest priority as we are investigating the matter."
The evidence suggests that Samsung rushed its phone into production, was slow to issue a recall, and now appears to be suppressing the information that replacements are dangerous. But it seems safe to say at this point that the Samsung Galaxy Note 7 is a consumer hazard that not only puts its users in danger, it's also dangerous for everyone around them.
So if you have a Note 7, turn it off. You might as well return it for a refund, too.
Update 11:56am ET: Samsung responded to our request for comment with this statement from a spokesperson:
We are working diligently with authorities and third party experts and will share findings when we have completed the investigation. Even though there are a limited number of reports, we want to reassure customers that we are taking every report seriously. If we determine a product safety issue exists, Samsung will take immediate steps approved by the CPSC to resolve the situation.
Update 2:38pm ET: 
Update 4:51pm ET: The Verge was contacted by a man in Virginia who sent photos of a replacement Galaxy Note 7 phone that he claims caught fire this morning. He also provided a receipt and a photo of the box to prove the serial number matched and it was indeed a replacement.