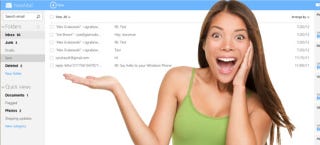 An indictment filed in federal court today reveals that Microsoft snooped through a blogger's Hotmail account trying to plug an internal leak of pre-release Windows 8 software. That sounds like an outrageous violation of privacy because that's exactly what it is. Microsoft claims they had the legal right under its terms of service.
BI reports that that federal prosecutors filed papers agains former Microsoft employee Alex Kibkalo today, alleging that he illegally transferred company secrets to an unnamed blogger. According to the indictment, the blogger came to Microsoft in September 2012, claiming it had inside information. The information was of particular interest because the blogger's email address had already been associated with leaks by Microsoft's private security company. After clearing its plan with its legal department, Microsoft dove in, and found an email implicating Kibkalo in leaks.
That Microsoft would go poking around anyone's email without a court order is pretty infuriating, especially since Microsoft has made a big hubub about how it keeps your information private and how Google is scraping your email for advertising purposes.