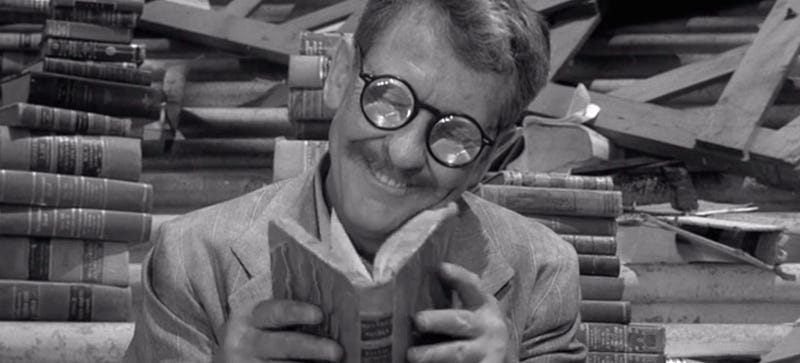 After eight years of writing about past visions of the future, I've learned to never make predictions of my own. But I'm about to break my own rule because I'm just so damn confident in my prediction: Paper books will never completely disappear.
Okay, I'm going to almost immediately hedge and say that I can't get behind the concept of "never." Never is a long time. So for lack of a better way to measure, how about we call it within your grandkids' lifetime? Because after your grandkids are dead nobody you know or care about will still be alive. That puts us at about a century out. And since I've got maybe 30 or 40 good years left on this planet if I'm lucky, a century is basically forever for me.
So how can I be confident that paper books are going to be with us for a long time to come? First of all, because they're lovely and I refuse to believe they'll ever disappear. But also because paper books are still a fantastic and irreplaceable piece of technology.
College students overwhelmingly prefer deadtrees to e-textbooks. In a recent survey, a whopping 92 percent said that paper books allowed them to concentrate better. And it's easy to see why! Your deadtree Chemistry book doesn't have the siren song of Twitter or Facebook calling you from the digital rocks.
Believe it or not, paper book sales have made a modest comeback in the past year. Ebooks are mainstream. But paper books have too many benefits to simply die out anytime soon.
Paper books aren't hindered by DRM or evolving media storage standards* or a need for electricity that'll turn your Kindle into a nice paperweight when that nuclear EMP blast finally hits and we're all bringing our kids to the burned out husk of a library to show them what the Before Times were like. Paper books sit on the shelf and mind their own fucking business like they should.
Even short of the more apocalyptic scenarios one can dream up, paper books still serve a purpose and will for the foreseeable future. And anyone who disagrees is almost certainly buying into myths about tech adoption that have poisoned the national discourse about progress for far too long.