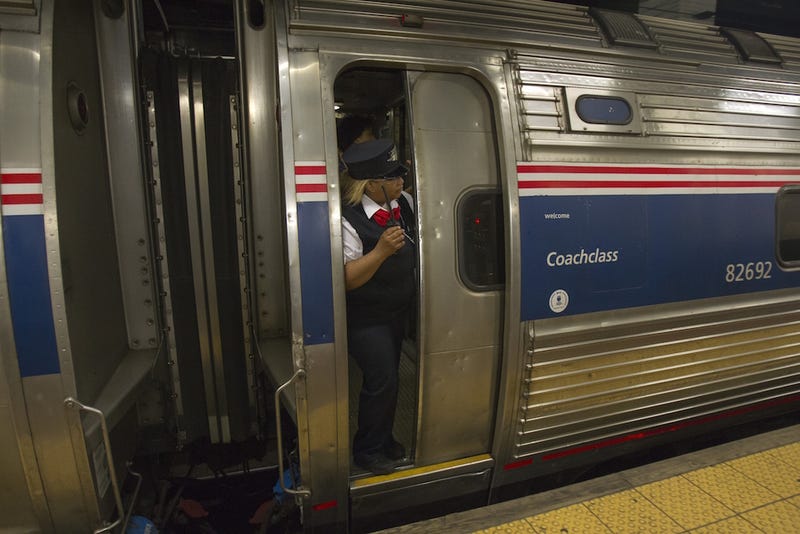 Last week's horrific Amtrak crash surfaced new concerns about the US's neglect of its rail infrastructure, with blame falling on Congress for failing to allocate enough money to upgrade the system for safety. The truth is that trains would be the safest way to travel in this country—if more Americans embraced a future…
Passenger rail has never been known for punctuality (at least in this century), but over the past year, Amtrak's long distance passenger trains have reportedly gone from being late 35 percent of the time to being late 60 percent of the time. But don't blame Amtrak—it's being forced to make way for the thousands of…
Since it's right next to the largest private construction project NYC has ever seen, you could easily miss it: A 35-foot-deep trench being dug on Manhattan's West Side. It looks something like a grave, or an archaeological dig, but no—this is an 800-foot-long insurance plan for the future of the city.
While Hurricane Sandy raged over the New York metropolitan area, the underground infrastructure of the city began to flood. Now Amtrak is revealing that they could have let Penn Station flood instead of the Hudson River tunnels, using a long-forgotten barrier designed to protect the city during World War II.
No longer confined to the ivory and platinum Acela cars, whisking the aristocracy between debutante balls and peacock hunts, Amtrak's free Wi-Fi is trickling down to the people. Twelve east coast routes—60% of Amtrak traffic—are going wireless.
People who carry on high-volume conversations on their cellphones in public places are the worst. THE. WORST. Which makes Lakeysha Beard the worst of the worst of the worst. For sixteen solid hours after she boarded an Amtrak train in Oakland, KATU.com reports, she yapped loudly into her goddamned phone. SIXTEEN…
Take heart, business travelers of America! Soon you'll be able to add "slow and spotty internet connection" to your list of gripes with Amtrak's high(er) speed Acela line. While I'm sure Hulu will help numb the pain of rail commuting, be warned that it may only be free for a limited time. Also, be annoyed that JetBlue…
Rail-happy Japan, a country that probably takes great joy in watching America's
embarrassingly slow
and adoption of high-speed and maglev trains, will be graced with new breed of green, 200+ mph trains by 2010. Kawasaki Heavy Industries, the designer of these new trains, isn't promoting speed as the main selling…