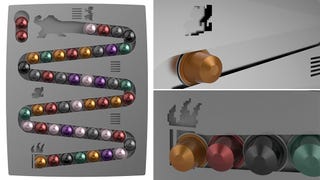 Not everyone has the time to painstakingly brew the perfect cup of coffee each morning. That's why simple capsule coffee machines from Keurig and Nespresso have become so popular. And if you're embarrassed at taking a shortcut for your morning brew, you can distract your judgemental coffee snob friends with this…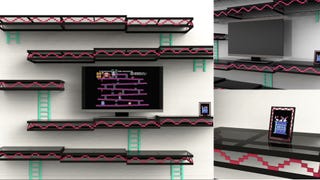 If when you close your eyes each night in bed you see visions of pixelated arcade apes performing game-like quests, you can be sure you are a true gamer at heart. And now that we've cleared that up, you might as well embrace it, and indulge yourself with a little Donkey Kong-inspired interior decor.
Don't get us wrong, we're totally blown away by Photobucket user gpinzone's retro gaming-themed bathroom that incorporates elements from Super Mario, Donkey Kong, and Pac-Man. We just can't help but feel they missed a fantastic opportunity to turn the throne into a functional warp pipe that sucks down more than just…
Your shelves officially suck compared to these. They're Donkey Kong shelves, complete with a monkey, NES, SNES and N64. Oh, and the N64 only has Goldeneye as opposed to a full collection of games. Awesome. [Sprite Stitch via TDW]
The Computer Game Museum in Berlin has accomplished two things to make fanboys, such as ourselves, very moist. Firstly, they have created a museum dedicated to computer games and secondly, the institution has produced a mahoosive reconstruction of the classic Donkey Kong game using scaffolding. That is large. Lap it…
Costco's selling this Nintendo classic arcade cabinet. Since you can get Mario Bros. Donkey Kong and DK Jr variations on Game Boy, what you're actually paying $3000 for is the orange paint and amazing cabinet art. Twin joysticks, and a 19 inch monitor round out the 250-pound pre-8-bit-era game machine.–Brian Lam


Japanese collectible toys are generally cool to the Nth degree, especially when based on either whippy turds or video games. In the latter category comes a brand new range of build-it-yourself mosaics from TomyTec, all of which depict classic Nintendo characters.