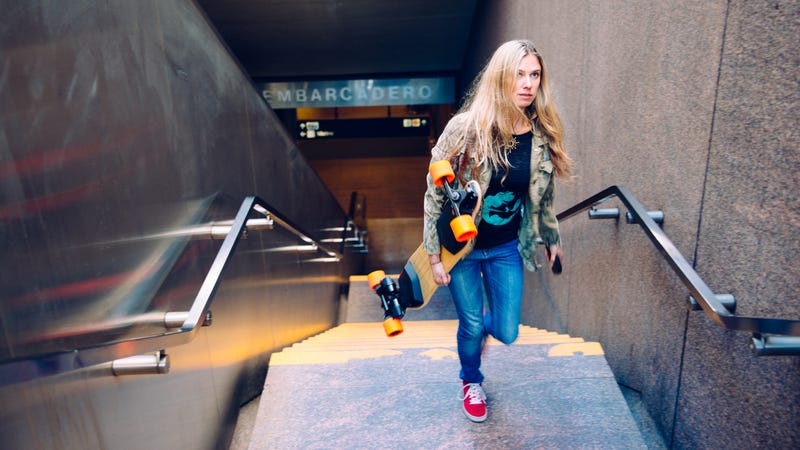 Sure, there's Tesla. Tesla's great. Self-driving Google cars? I'm into it. But Boosted Boards' electric longboard is available today, at a price (some) people can afford. And riding it is glory and joy itself.
Boosted is a new company: six mechatronic engineers and an industrial designer. They designed a skateboard driven by two brushless electric motors powered by lithium rechargeable batteries. They pre-sold them on Kickstarter in late 2012, and a year-and-a half later started shipping them to their backers. They were $1,100 then; pre-orders today start at $2,000.
I didn't order one in 2012 because I was broke. But Boosted sent me one for our recent Home of the Future event, and I've spent the last month riding it, primarily on my commute from Brooklyn to Manhattan—something like 75 miles total, at least. I still can't really afford a Boosted Board, but I really, really don't want to send this demo unit back.
Let's start with the looks, because it's for that kind of money you should enjoy showing it off. Boosted Board is an attractive piece of hardware, with custom fittings for the motors, batteries, and electronics, with understated geometric design on the deck and markedly overstated orange wheels and accents. Two 1000W motors drive two belts attached to the rear wheels. To operate it, you hold a wireless controller with a trigger switch to engage the clutch, and a thumb-wheel to mete out power both forward and backward.
Then there's the experience of the ride itself. I don't have a lot of longboarding experience. I bought my first regular board just a few weeks before I started riding the Boosted. I can foot brake, but poorly. I can jump off when I get into a bad situation and sometimes I can do it without banging up my knees. I still can't do a Pendelton sideways slide, nor am I sure exactly where I'd be able to on my New York City skating routes.
None of my limitations really mattered, though. Within four hours of taking the Boosted Board out of its box, I was able to ride it home from Soho to Ft. Greene, a distance of about three-and-a-half miles, including a bumpy scoot over the Manhattan Bridge and its annoyingly deep, metal expansion joints. It only took a week before I could do the same ride without being terrified.
The Boosted Board does has a few ticks that take getting used to. It's got a lot of torque. And because it's electric, that torque is more or less available right at the beginning. Start from a dead stop and it's easy to fall off the back of the board as it takes off without you. Better to kick start like a regular skateboard a few times, then slowly dial in the power to get moving. (You'll probably have an easier time than I did though, as I learned to ride the board in "Expert Mode" and not "Beginner Mode." In my eagerness to get riding, I never bothered to check which mode it was in.)
The Boosted Board is governed at a top speed of 20MPH, which is just about all you'd want, especially while learning. The trucks and suspension seem overly tight at first, but I soon came to realize that the tightness provided relative stability near its top speeds—speeds a normal board is rarely going to get unless you're screaming downhill.