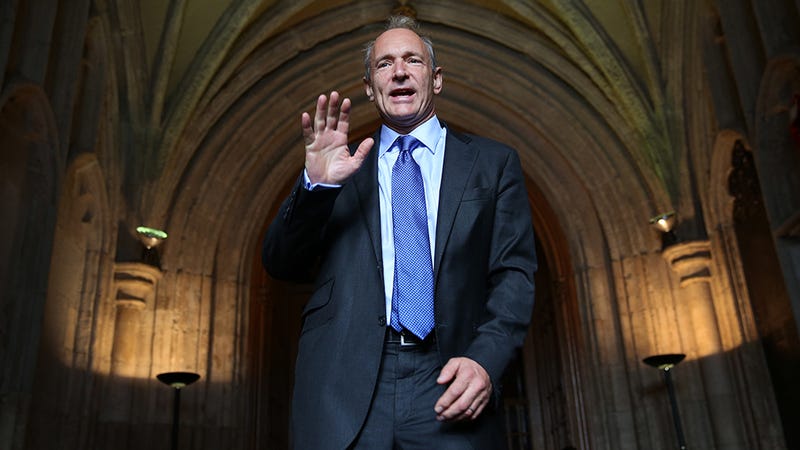 Yesterday was the 28th anniversary of the day that Tim Berners-Lee submitted his proposal for what would become the World Wide Web. In honor of the occasion, he published a letter outlining the biggest areas of its development that are doing him a frighten and warping his original vision.
Berners-Lee still directs the World Wide Web Consortium which develops open standards for the web. That gives him a tremendous amount of influence. But now that the web truly is world wide, governments and multi-billion dollar corporations hold most of the power. While a lot of the problems he points out aren't at all new, he says that he's become "increasingly worried about three new trends" over the last 12 months.
Things that Tim is worried about:
1. The loss of control over personal data
Berners-Lee acknowledges the problem that we all have come to accept the labyrinthine terms of service that come with the private technologies that we use. This has also become an issue with government surveillance, which is collecting data and monitoring communications without asking for personal permission. Berners-Lee fears that data collection by governments is having a chilling effect on what we feel comfortable discussing online.
2. It's too easy for misinformation to spread on the web
Fake news! Yes, like all of us, Berners-Lee is confounded with the problem of online communication and social bubbles creating a ripe landscape for false information. Specifically "the use of data science and armies of bots" to game the system.
3. Political advertising online needs transparency and understanding
He worries about the ability of politicians to craft multiple narratives for specific groups and no one understanding what the politicians true message is. "Targeted advertising allows a campaign to say completely different, possibly conflicting things to different groups. Is that democratic," Berners-Lee asks.