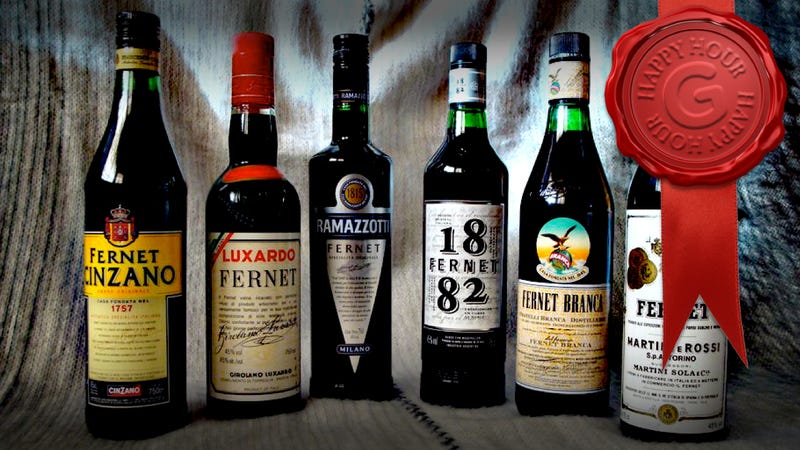 You're out on a date. You're hoping to impress your companion and come off as a worldly gentleman or gentlewoman, but the bar menu is chock-full of alien ingredients. Your choice is simple: Get the one with fernet.
It's Friday afternoon, you've made it through the long week, and it's time for Happy Hour, Gizmodo's weekly booze column. A cocktail shaker full of innovation, science, and alcohol. You're bitter, baby, but we like it. A lot.
What Is Fernet?
Firstly, fernet is not a brand. Fernet is a sub-category within the amaro family, which is to say bitter liqueurs. It is extremely herbaceous, usually containing between 20 and 40-something different mysterious ingredients. Gentian, myrrh, chamomile, rhubarb, cardamom, aloe, and saffron are all common, and its base is usually distilled from grape juice, with a proof typically between 78 and 90. It's what is known as a potable bitter, which means it's low-proof enough to drink on its own (unlike, say, Angostura).
Like many other bitters, fernet became popular during the 1800s as a sort of medicinal cure-all. It was said to calm the stomach—especially after a large meal—and aid digestion, but it was also purported to cure hangovers, relieve menstrual cramps, and help with drinking-related... performance issues. Early versions had a hearty dose of opiates in them, which may help to explain its popularity. To this day, fernets are still typically consumed as a digestif, but it has an infamous eye-opening effect.
Its closest corollary might actually be Jägermeister, just without the sweetness. It's all that herby medicinal taste you get from Jäger without the spoonful of sugar to make it go down. It's no-joke bitter. Campari—another potable bitter—tastes like candy in comparison. Fernet is a dark-brown liquid, and it goes down very dry, but when you breathe out again you taste every one of those herbs. It's too much for a lot of people to drink straight.
Now, despite fernet not being a brand, when most people say "fernet," they're referring to "Fernet Branca," which is a brand. Fernet Branca is the Kleenex of fernets. It is, by most accounts, the original fernet, first made in 1840s. It's also easily the most ubiquitous fernet. In fact, it's rumored that Branca uses an estimated 75 percent of the world's saffron, which effectively lets the company control the market price of one of the most expensive spices on the planet. Other companies make fernets, too, such as Luxardo, Ramazzotti, and even Martini and Rossi, each with their own character and blend of herbs.
Modern Times
Fernet never really lost popularity in Italy, where it's typically made and where it's often taken neat, after dinner. It's gigantic in Argentina, where fernet and cola is the national cocktail. It was semi-popular in the U.S. in the pre-prohibition days, but once those laws went into effect, San Francisco found a way to import fernet as medicine, not hooch. This is likely when it first started appearing in cocktails; like the gin and tonic, mixing the medicine with booze was a tastier way to take it. Once prohibition ended, though, fernet somewhat faded into obscurity in the U.S., and there it would remain for many decades.