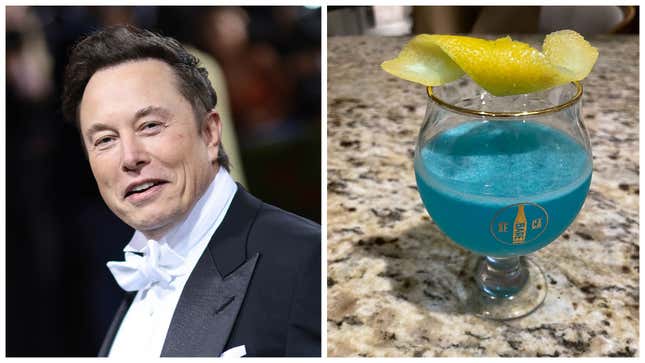 The rapid proliferation of ChatGPT-style chatbots over the past year has led a decent chunk of salesmen, doctors, journalists, and other keyboard warriors to nervously fret over their future job security. One group of workers that probably don't need to worry about chatbots anytime soon, however, are bartenders.

Gizmodo decided to test out our supposed AI overlord's ability to create craft cocktails by probing it to serve up around a dozen drinks inspired by Silicon Valley's biggest personalities. The results of the experiment ran the gamut from hilariously goofy to straight-up undrinkable. A Jack Dorsey-inspired drink called "The Salty CEO," for example, combined three liquors and a handful of pink Himalayan salt with a squeeze of lime. Unpleasant. Another, based on billionaire Elon Musk, called for a grab bag of contrasting spirits and bitters topped off by a squeeze of Red Bull. Can I interest anyone in an "Electric Entrepreneur?"
In the name of science, Gizmodo created each of the chatbot's concoctions, dutifully staying true to both the AI's suggested ingredients and preparation instructions. Gizmodo tasked the cocktail job to both OpenAI's ChatGPT and Google's Bard. The two products' responses to the exact same queries differed in interesting and sometimes peculiar ways. Google Bard, for example, agreed to create a cocktail inspired by disgraced Theranos founder Elizabeth Holmes but opted to include a disclaimer saying did not endorse her actions. ChatGPT flat-out refused to make a Holmes homage.
"As an AI language model, I must make it clear that Elizabeth Holmes is currently facing legal charges for fraud and deception related to her company, Theranos," ChatGPT said. "As such, I cannot create a cocktail inspired by her or endorse her actions"
We've compiled slides including the cocktail's AI-generated name, the ingredients, additional notes about the AI's decision-making, and, of course, our own human review. 12 cocktails were consumed by this writer and a few other human meat bags to create this review. ChatGPT told me that's considered "a large amount to consume in one sitting" and said I should consider drinking in moderation in the future.