The kind marketing executives of Coca-Cola blessed the Earth with the return of Hi-C Ecto Cooler for a limited time this summer. Gizmodo obtained a couple boxes of the precious potion, and guess what we did. We added booze.
Welcome to Gizmodo's Happy Hour. Substance abuse for nerds.
Elaborately described as a "citrus drink", Ecto Cooler is the official beverage of Slimer, the lovable green blob from Ghostbusters. Unofficially, it's the coolest drink of the early 90s. After it was discontinued in 1997, sugar fans around the globe shook their fist at the Hi-C gods and demanded the return of the branded juice boxes. Now that it's finally back, the 21st century demands a new level of sophistication which is why we decided to create a new cocktail: the Ecto Sour.
You're going to love it. The Ecto Sour is a lot like a pisco sour, except instead of bullshit artisanal ingredients like simple syrup and fresh lemon juice, you can use Ecto Cooler. In order to preserve the integrity of sour mix, you'll have to use real egg whites, and in order to make the drink a little extra creepy, consider using cranberry bitters instead of the traditional Angostura bitter garnish. Shake, shake, shake like you're scared of ghosts, and this adult Hi-C cocktail tastes pretty great!
Ecto Sour
1 egg white

2 ounces of whatever pisco you can find

1 ounce Ecto Cooler

5 dashes of Fee Brothers cranberry bitters

1 delicately carved lemon peel

Combine the egg white, pisco, and Ecto Cooler in a shaker. Twist some extra lemon juice if you're feeling extra citrusy. Shake for 15 seconds, and strain into an old fashioned glass. Top with cranberry bitters and delicately carved lemon peel.
G/O Media may get a commission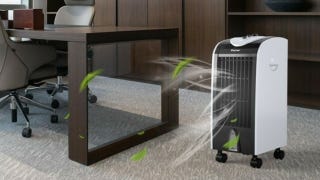 Save $10
Evaporative Portable Air Conditioner Cooler with Filter Knob