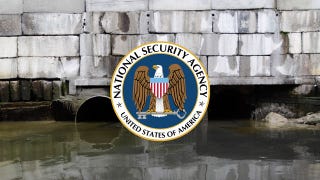 When residents of Howard County, Maryland, flush their toilets, their sewage will soon end up at the NSA's new computer center several miles away. Collecting and storing so much data has been generating a whole lotta heat for the NSA—we mean this quite literally—and the agency's now buying treated wastewater to cool their equipment.
The agency's High Performance Computing Center-2, which broke ground in May, will pay $2 million a year for treated wastewater from the Maryland county when it opens up for business, analyzing cybersecurity threats, in 2016. The county is also in talks to sell their wastewater to Dreyer's Ice Cream, according to the Washington Post. Wastewater once dumped into the river has become a million-dollar commodity.
The wastewater deal is a reminder that the NSA, which increasingly seems to operate outside our laws, is at least bound by the laws of physics. The agency's mega data center in Utah, for example, has been bedeviled by electronic failures.