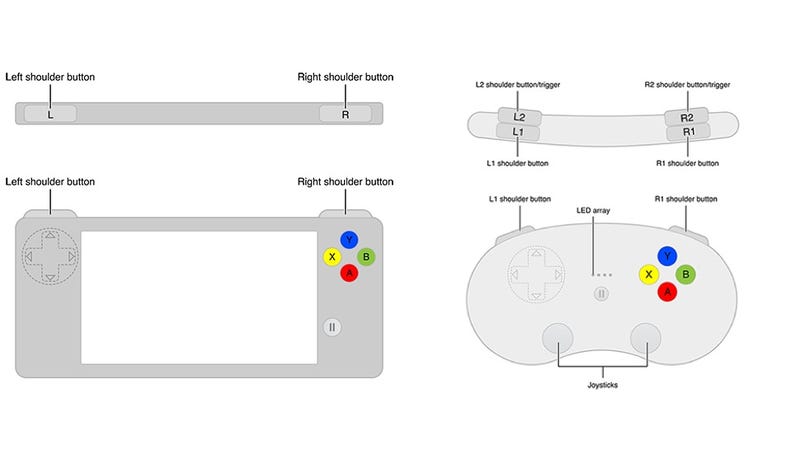 This week, Apple released its first-ever instructions for designing and developing a game controller for use with Apple products. The evidence suggests that Apple is gearing up take gaming beyond the confines of its products. It's going to condone console-style game development. And today's game controller for iOS 7 could mean that tomorrow's Apple TV is a full-on gaming platform.
How new peripherals take the game away from Apple's control
Buried within the new pre-release documentation released this week for iOS 7 and OS X Mavericks is a new "Game Controller Framework". The document, which you'll need a developer account to access, describes reference designs for gamepads as well as a simple API that developers can use to connect the gamepads to one of Apple's operating systems and map the different buttons to game controls.
The documentation calls for two different types of controllers. That's them up there at the top of the post. The first is a a formfitting gamepad that connects directly to an Apple product, say an iPhone, leaving the screen visible. The second "extended" gamepad connects wirelessly to a device, say an MacBook, and lets you control what's on the screen.
The designs (pictured above) will look familar to anyone who has ever played a video game on a console before. The formfitted one looks like an old Super Nintendo controllers whereas the wireless one looks more like what we're used to on Xbox or Playstation.
Both controls have a directional D-pad on the left a standard XYAB array on the right. A pair of left and right shoulder buttons sit on top. The extended controller has a pair of thumb joysticks and an extra pair of buttons on top.
Besides defining the method for connecting a controller and receiving inputs from the buttons (or combinations of buttons), the API also specifies an input method for an analog axis control, which could be used to control a gyroscope.
A few other ponts of note: Apple says that games must be playable without controllers. Apple also specifies that just because a game uses a controller, it doesn't mean that it couldn't be used in parallel with a device's touchscreen.
What this could mean for Apple TV
On the surface, standardizing the design for these controllers might not seem like such a big deal. For years, third-party manufactures have been building unlicensed game controllers for the iPad, and developers have been building games to meet the hardware specs of each product. Because there hasn't been a standard API until now, every kitschy new peripheral built for iPad only works with games built with that hardware maker's protocol in mind.
That's a lame experience for consumers not to mention a pretty crappy value proposition.
Apple doesn't let screw ups like that fly. So in light of the problem, you can read the move as Apple opening itself up to a new market it can profit from while at the same time standardizing and improving the experience for its customers. Why wouldn't it want to make money every time someone slaps an iPad badge on a box?
The answer might have something to do with this: A real, physical gamepad is the missing link between the evolution of Apple's currently lackluster Apple TV, and full-on Cupertino assault on your living room.
Indeed, if you've been watching the Apple TV over the last few years, it's hard not to think that it's not living up to its potential. Why no App Store? Why no SDK? The Apple TV currently runs a modified version of iOS 6. Bringing the entire iOS ecosystem over would be a relative piece of cake if Apple wanted to.