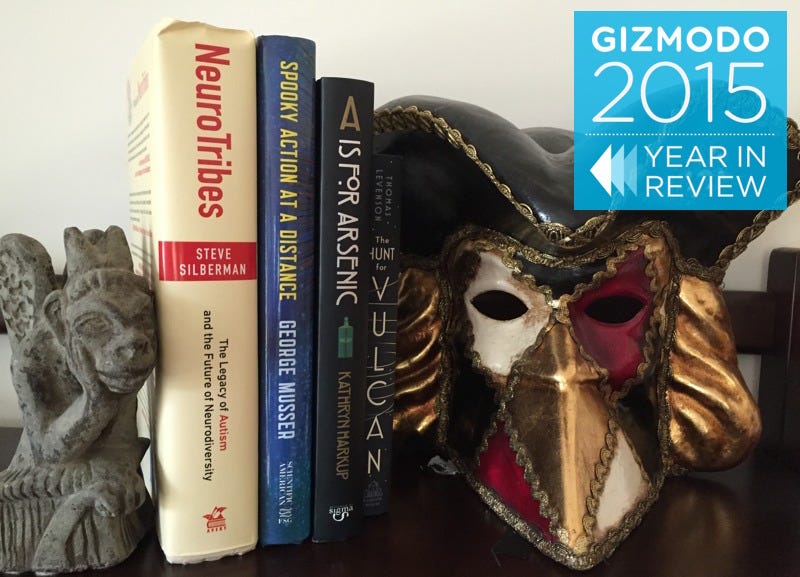 Looking for a good holiday read? There was no shortage of excellent popular science books this year, from memoir, alternate science histories, and the poisons of Agatha Christie, to deep dives into string theory, quantum biology, and the mystery of life. These are our most-loved popular science books from 2015.
In 1951, British fantasy author T.H. White (The Once and Future King) wrote about his peculiar bond with a goshawk he trained, ruminating on how these loving connections to feral animal companions accustomed to the wild arise in the first place. Now White has a kindred spirit in Helen MacDonald, whose H Is for Hawk is part personal memoir, part classic nature writing, and part literary homage to White's classic tale.
MacDonald had always loved hawks as a child, perhaps because of, rather than in spite of, their fierce predatory natures. When her father died suddenly on a London street, she sought a means of dealing with her deep grief. So she adopted a goshawk named Mabel and set out to raise and train the bird herself. As White discovered decades before, it is no easy feat to train a bird of prey. And the challenge and resulting bond with Mabel proved to be just the thing MacDonald needed to transform her grief into something equally beautiful and wild. With its elegant, evocative prose and emotional depth, this book has topped a number of year-end list, for good reason.
Even the most rabid Star Trek fan understands Spock's home planet was fictional. But there was time when astronomers believed a planet called Vulcan might actually exist. In the 19th century, French astronomer Urbain-Jean-Joseph Verrier noticed something peculiar about the orbit of the planet Mercury: it didn't seem in keeping with the laws of motion outlined by Isaac Newton two centuries before. He concluded there must be a hidden planet lurking nearby, launching a fruitless search that would span decades.
There were perfectly good reasons to think so: a similar anomaly led to the prediction and ultimate discovery of Neptune in 1846. But as Tom Levenson relates, the hunt for Vulcan was based on a false assumption about how the universe works. It wasn't until Albert Einstein invented his general theory of relativity that scientists realized Vulcan could not exist, and they had been chasing a phantom for the last 50 years. It makes for a helluva story, and Levenson has a particular gift for unearthing colorful details and arcane nuggets of history from the dusty archives to better illuminate his tale. But it's also an intriguing glimpse into how science gets done, and how easy it is even for scientists to be blinded by their own pre-existing assumptions.
Autism is one of those controversial topics bound to rouse passions on all sides, and Steve Silberman's sprawling, impeccably researched tome has done its share of fanning the flames, even as it roared up the New York Times bestseller list and snagged the 2015 Samuel Johnson Prize for good measure. In particular, he argues persuasively for a recasting of autism not as a crippling lifelong disability, but as a different, equally valid way of thinking.