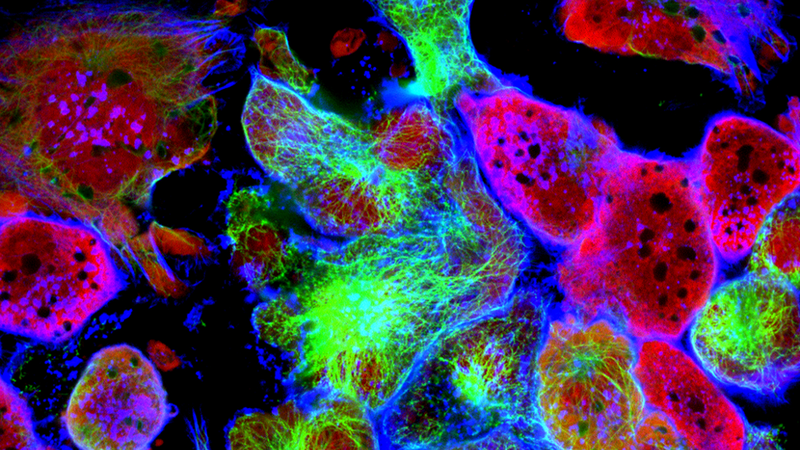 In a study that's bound to attract considerable controversy, a pair of researchers are claiming that between 60 and 66 percent of all cancer-causing mutations are the result of random DNA copying errors, making them essentially unavoidable. The new research is offering important insights into how cancer emerges, and how it should be diagnosed and treated—but many questions remain.
For decades, the paradigm among cancer researchers has been that cancer arises as the result of heredity or environmental factors, or a combination of the two. New research from Johns Hopkins Kimmel Cancer Center suggests there's a third factor that causes mutated cells to start reproducing out of control—random and unpredictable copying errors during DNA replication. Upsettingly, the research shows that these errors occur in people who don't have a family history of cancer, and among those who lead very healthy lives. This revelation suggests improved methods to detect cancer are needed, especially in the early stages when cancers are highly curable.
"The reason why [cancer researchers] have never seen this before is because no one has ever measured this before," said study co-author Cristian Tomasetti at a news conference held yesterday. "This is what we are presenting to you today."
As the authors conclude in the new paper—published today in Science—random DNA copying glitches appear to be responsible for nearly two-thirds of all cancer mutations. The researchers informally refer to cancers that develop in this way as "bad luck" cancers because there's evidently nothing we can do to avoid them. But as the scientists go to great pains to point out, that's not an excuse to live one's life with reckless abandon. As this new paper and pre-existing studies show, approximately 40 percent of cancers can still be prevented.
"It is well-known that we must avoid environmental factors such as smoking to decrease our risk of getting cancer. But it is not as well-known that each time a normal cell divides and copies its DNA to produce two new cells, it makes multiple mistakes," explained Tomasetti. "These copying mistakes are a potent source of cancer mutations that historically have been scientifically undervalued, and this new work provides the first estimate of the fraction of mutations caused by these mistakes."
Tomasetti, along with his colleague Bert Vogelstein, reached this conclusion by using a new mathematical model to evaluate DNA-sequencing data and epidemiological findings from around the world. Among the 32 cancer types studied, the researchers found that approximately 66 percent of cancer mutations are the result of DNA copying errors, 29 percent are caused by environmental factors, and just five percent are hereditary.