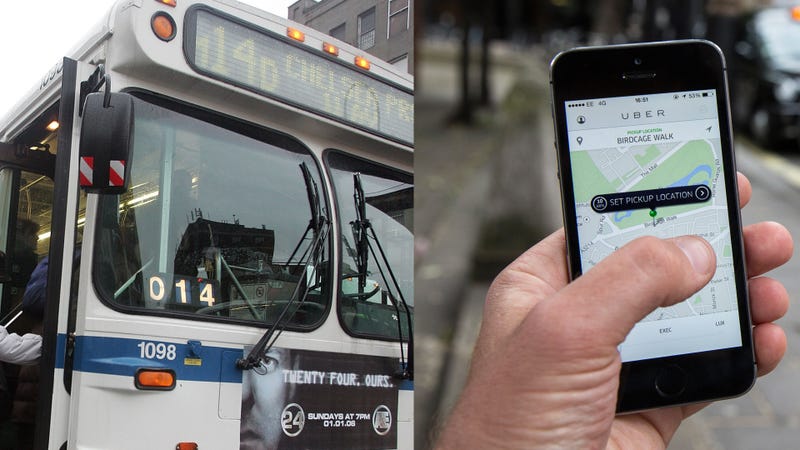 A new Bloomberg report details Uber and Lyft's various partnerships with small local public transportation agencies. In 2014, the local government in Pinellas Park, Florida nixed two of their least-traveled bus lines because of huge budget cuts. To compensate for that loss, the government then struck a deal with Uber to aide residents with the cost of their trips along those routes. The pilot program, reports Bloomberg, gives residents a 50-percent discount with a maximum of $3 per trip. (I can't speak the average cost of an Uber ride in Pinellas Park, but $3 seems like a very minimal subsidy to me.)
Partnerships like these, so far, exist in sparsely populated suburban areas with low ridership. Adie Tomer, a fellow at Brookings Institution's Metropolitan Policy Program, told Bloomberg that partnering with Uber and Lyft is particularly attractive to these types of local municipalities because of how expensive it is to run public buses. The program in Pinellas Park costs $40,000, which is a quarter of what it cost them to run those two bus lines. This month, the government has started offering to subsidize all rides in the county that end at one of 20 designated bus and light rail stops. "It's not supposed to be something you'd take instead of the bus; it's supposed to be something you'd take to the bus," Ashlie Handy, a spokeswoman for the Pinellas Suncoast Transit Authority, told Bloomberg. The PSTA has also offered to pay for low-income residents' Uber rides after 9PM.
A similar program has been launched in the neighboring town of Altamonte Springs, as well as one in Centennial, Colorado. The Centennial program will partner with Lyft instead of Uber. Miami-Dade county also hopes to use $575,000 of a federal grant for public transportation on Uber and Lyft subsidies.
Although partnering with Uber and Lyft might save local governments money when it comes to public transportation, these programs could lead a number of major issues. They are, first off, inaccessible to anyone without a smartphone—as of 2015, 64% of Americans own a smartphone. They also don't guarantee accessibility to people with disabilities. Furthermore, they effectively replace good, salaried public sector jobs with contract work. In April, Uber settled two class action lawsuits with its drivers for $84 million which let the company keep them as contractors instead of employees. Even though $84 million seems steep, paying out those settlements was completely worth it for Uber.