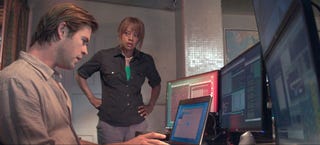 Back in Kevin Poulsen's hacker days, before he became writer and Wired editor, he pulled stunts like taking over the phone lines in a radio contest to win himself a Porsche, or breaking into the FBI's computer system when he ended up on the agency's Most Wanted list to change his physical description. He served a five-year sentence for his crimes. Now he's consulting for Hollywood hacker films.
Poulsen's story itself was not the inspiration for the film Blackhat; it came from Kingpin, Poulsen's 2012 account of Max "Vision" Butler, a white hat hacker who when released from an 18-month cybercrime sentence could no longer find proper employment and turned to the other side. Max Vision provided the framework for Hathaway, the hacker played by Chris Hemsworth (yes, the sexiest man alive) in Blackhat.
As we've pointed out before, Hollywood has a really hard time making hacking look interesting in a movie, and even harder time portraying it accurately. Blackhat comes about as close as anything we've seen before, and it wouldn't have done so without Poulsen's expert influence. We talked to him about the process.