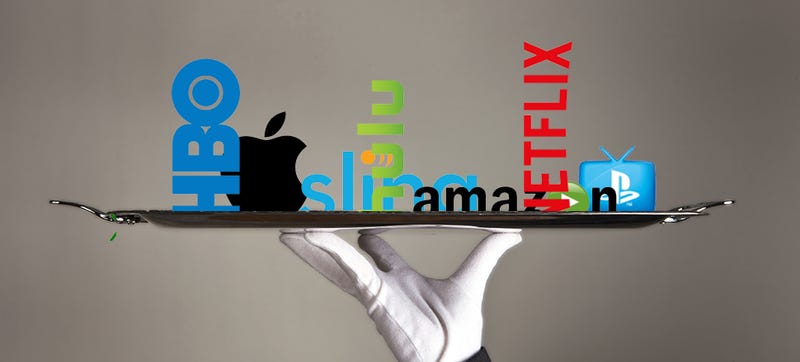 That final unwavering bastion of old media—cable TV—is crumbling. And, surprise, tech giants are the ones putting the last nail in its coffin. But what will their alternative cost us? Let's take a look.
Last night, the Wall Street Journal gave unprecedented credence to a years-long list of rumors about Apple's TV subscription service, a 25-channel "skinny" bundle with major broadcasters like ABC, CBS, Fox, and also FX and ESPN. (One notable exclusion is NBC, owned by Comcast, which reportedly had a falling out with Apple while working on a joint TV-subscription service.) This isn't some "launching in a few years" rumor. Sources say Apple plans to launch this service in September at around $30-$40.
The rumored Apple subscription TV comes on the heels of similar streaming options from Dish, Sony, and of course the long-sought standalone HBO Now, to completely obliterate the traditional ways of television, and it's all happening this year. This is great—choice is great! Anything is better that dealing with Comcast.
But as we're fond of pointing out, the future of television isn't necessarily cheaper. It might not even be worth it at all. Decide for yourself. Here's a rundown of all the confirmed and rumored prices of the streaming options on the a la carte TV platter.