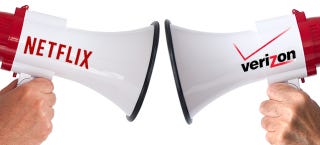 If you're a Netflix customer on Verizon, there's a good chance you've spending a lot more time with that bright red buffering screen than you'd like. That's why, over the past few weeks, Netflix and Verizon have been displacing blame by taking pot shots at each other. But while they're busy bickering, we're the ones suffering. What the hell is really going on?
If this war of words has accomplished anything, it's muddling the facts beyond recognition. Just last week, after being called out by Netflix for slow speeds, Verizon issued a sassy blog post counterattack. And while the initial Netflix jab was glib, all Verizon's response really accomplished was to distract from the real problem at hand. Which, funnily enough, has a lot do with Verizon itself.
Here's the truth: Netflix and Verizon are both in full agreement about why your Netflix speeds are stuck at such an infuriating crawl. The issue isn't about what's causing it. It's about who's picking up the bill.
Why We Buffer
In Verizon's retort, Vice President of Public Policy David Young makes a show of explaining that Netflix lied about a crowded Verizon network, and that it's actually Netflix's own choices that led to the buffering mess. Verizon even provided this not entirely readable chart to drive the point home:
Indeed, it's clear that Verizon's own infrastructure isn't overcrowded. As those happy green arrows show, there's hardly any congestion there at all—because no one can get into its network in the first place.
That red arrow may imply that Netflix dumps a massive clog into Verizon's tiny drain, but it's actually a mutually shared interconnection point. It's this gateway where the two companies trade traffic in an agreement referred to as peering, something Verizon and Netflix agreed to back in May, and that Comcast and Netflix agreed to back in February.
The whole reason these deals had to be reached in the first place is, admittedly, because Netflix is so impossibly huge; roughly 30 percent of all internet traffic. So it's easy to see how our hundreds of thousands of binge-watch sessions could cripple Verizon's pipes. The solution? Make long-overdue upgrades and additions to Verizon's various peering ports, ensuring a bigger, better Verizon infrastructure in the long run and actually giving customers what they're paying for in the immediate. But as David Young's post makes clear, Verizon has decided that this is Netflix's problem.
The catch, though, is that Netflix has offered Verizon a reasonable set of options for reducing the strain of its massive captive audience. Specifically, Netflix offers what they call "a caching appliance" as part of its Open Connect program, which is essentially an entire Netflix in a box that ensures Netflix data has less distance to travel, meaning it clogs less junctions. And if you refuse one of those 100 TB bad boys, Netflix is also happy to peer at a common Internet exchange.