The idea of a $1000 1080p projector is enticing, but are the first products to reach this price, the VIvitek H1080FD and the Optoma HD20, any good? Yes, yes they are.
I have to admit, I didn't have high hopes for these two machines. The first "budget" products in any category always seem to fall short, but in this case I was pleasantly surprised. Both the Vivitek H1080FD and the Optoma HD20, which use DLP technology, offered exceptional performance for the price, but one definitely stood out.
The Results...
The Vivitek takes gold almost every category.

G/O Media may get a commission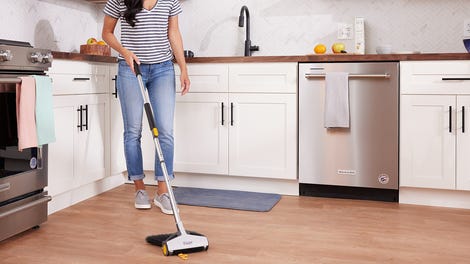 BOGO 50% Off
Flippr - BOGO 50% Off
Stack those results up (by weighting each gold medal with 3 points and each silver with 2), and you can see how it all adds up.
Winner: Vivitek H1080FD
While the Optoma HD20 and the Vivitek H1080FD are alike in many respects, the bottom line is that Vivitek pushed the envelope a bit more with picture quality, and provided more of those features that you might find in a pricier projector.
It's a shade bigger than the Optoma, and a little more than a pound heavier at 7.8 lbs, but it is still an extremely portable device (they even go so far as to throw in a carrying case). Both the Vivitek and the Optoma lack lens shift capability, so I had to set them up on this ghetto cardboard box on top of a card table configuration in order to deliver a straight, unobstructed picture to the wall. However, once things were set up and calibrated properly, the Vivitek offered up slightly richer colors and better overall contrast (5000:1) than the Optoma—although black levels and overall quality of the 1080p picture appear similar between the two devices. I also give the Vivitek an edge in the brightness department—especially when comparing the brightest modes. Still, after running through several 1080p video clips on both machines, I was really wowed by the overall image quality on these entry-level projectors.

As I mentioned earlier, the Vivitek brought a few features to the table that you usually find in pricier models. For one thing, it's extremely quiet—especially when compared to the Optoma. It also features more inputs/outputs than the Optoma, including S-Video, RS-232c connector and audio jacks (although it would be a crime to use S-Video). It even features a small 5W onboard speaker which aids in portability and ease of use for those who are looking for a simple, all-in-one solution. The speaker is basic, but I found it helpful in my temporary setup when I just wanted to plug and play.
There isn't much to complain about with regard to the Vivitek H1080FD, but I did notice that menus in the UI don't collapse, so you have to exit in order to get a full picture of your changes. However, the most troubling negative has to do with the $400 cost of a replacement lamp. The overall lamp life of the Vivitek and the Optoma are the same, but there is a $150 difference in the price of the replacement. Given the fact that there isn't a vast difference in performance between the two models, this expense could be a real dealbreaker for people who are looking to use their projector on a more regular basis.
Runner-Up: Optoma HD20
Sure, the runner-up in a contest of two is the "loser," but there's a lot to like about the Optoma. Right off the bat, you have to marvel at how small this thing is. At 12.76" x 3.82" x 9.21" and 6.4 pounds, users don't need to use the HD20 in a permanent setup. It can be easily stored and transported—but, again, the lack of lens shift means you might struggle to get an optimum viewing angle.

Granted, the HD20 isn't going to blow away enthusiasts who will settle for nothing less than the blackest blacks and whitest whites, but most of us will be more than satisfied with the clarity, color and contrast (4000:1). Overall lumen output wasn't quite up to snuff when compared to the Vivitek, but it was still considerably better than you would expect in a budget model in both bright and theater modes—easily allowing for a screen just under 100" in my living room to be comfortably viewable with ambient light.
Of course, the HD20 is not without it's flaws. First of all, excessive fan noise makes it sound more like what you might expect from buying a cheaply priced DLP. It's noticeable in Standard mode, but I was definitely distracted by it in Bright (users might also find the light emanating from the front vent to be distracting). I also found the UI to be well organized but fairly annoying to navigate, mostly because the remote isn't very responsive. I felt like I had to mash the button down to get a response.
Feature Comparison
But What If You Spend More?
OK, so what if you're willing to spend a bit more than $1000?
Epson's HC 8100 represents a price point in the entry-level market for consumers willing to pay extra for better 1080p performance. At $1600, the LCD-based 8100 is a big step up from the Vivitek and the Optoma. In my opinion, it is worth the added expense.
Simply put, it easily outstrips both of its cheaper competitors in just about every performance category. It also has some advantages that the others lack, many of which derive from the advantages 3LCD has over DLP. Brightness and color accuracy are better, no color wheel means no rainbow effect (for the people who suffer from that—you know who you are) and it has a high degree of vertical and horizontal lens shift, meaning you can put this thing just about anywhere and throw a clean image. However, it is literally twice as big and heavy as the Vivitek, which could make it unsuitable for some setups.
If you are concerned with the long term cost of ownership, the Epson is competitive in that area with a $300 lamp replacement cost (4000 hour lamp life in Normal and Eco modes) and a two-year limited warranty. So, in that sense, it could be cheaper to own in the long term than both the Vivitek and the Optoma, depending on your usage.

Verdict
If you have your heart set on 1080p, the good news is that you will probably be satisfied no matter which one of these projectors you choose—definitely an encouraging sign at these price points. That having been said, I think it is worth spending an an extra $600 for the improved performance of the Epson HC 8100.
However, if the HC 8100 isn't in your budget, there is no shame in going with the Vivitek—it will deliver a lot of bang for your buck. On the other hand, if you plan on using your projector frequently and the long term cost of ownership is a concern, the Optoma HD20 will be less expensive in the long run—and the choice might be further justified since there isn't a vast difference in performance. Perhaps the best news is that, within the next year, more 1080p projectors from the likes of Sony and Panasonic will be competing at these lower prices, too. If you are patient, it might be worth it to wait and see how the market develops. [Epson and Vivitek and Optoma]