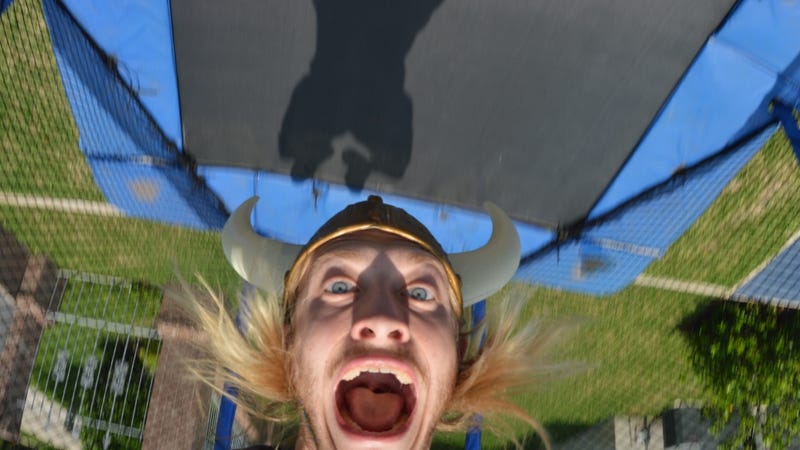 We used to call them "self-portraits," and they were one of the best known tropes of fine art. Now we call 'em "selfies" and people get super judgmental. Either way, here are your selfies portraits.
WINNER: Viking Flip
I took this selfie during a backflip on my trampoline... while wearing a viking helmet! The setup took a little bit of time because I was using my dad's old 16 mm fisheye lense, that didn't have auto focus. Once I had the focus set for the arm length distance, I had to flip while holding the camera at the correct distance from my face. Equipment: Nikon D3200 (F13, 200 ISO, 1/320 shutter speed, white balance preset to "direct sunlight") Nikkor 16mm 1:2.8 D Fisheye lense viking helmet trampoline mad gymnastics skills Nikon D5100, 18mm-55mm Lens, f/5.6, 1/6 sec, ISO 100.

- Nicholas Shirley
---
Unicorns Are Timeless
Shot on a Canon 6D, 24mm, f4, 1/160s, ISO 2000. I just recently got some speed lights, a wireless system, and a couple of softboxes and gels, so I was messing around with it all this morning, teaching myself the hard way about using white balance creatively. This shot was taken with two softboxes on either side of me with blue gels. My kitchen has a chalkboard wall that we painted for my kid, and it adds a cool texture to the background.

- Dave Bunting
---
Abduction
I regularly document myself being abducted by UFO's. This one was taken on my iPhone 4S in the alley behind where I work.
- Kevin Cross
---
RB67


Shooting summary: Camera - Mamiya RB67 Lens - 127mm f/3.5 (62mm equivalent in 35mm terms) Film - Portra 400 Aperture - f.3.5 Shutter Speed - 1/500th Story behind the shot: While a classic "looking through the camera" selfie, this image is one of my favorite random self-portraits I've ever taken. I was just walking around my parent's back yard at the time and noticed my reflection in the garage door window. Once I looked through the waist-level viewfinder, I noticed how it captured my reflection, the junk in the garage (they had just moved), as well as what was behind me. I composed the shot carefully, as I've come accustomed to doing as a film photographer, I metered for my skin (with a handheld meter), and snapped the photo. The roll sat in my desk drawer for quite some time before I had it developed, but once I received the scans back from Richard Photo Lab, I was amazed at how incredible this shot turned out. When you combine the reflections, the junk in the garage, and the subtle light leak (from myself accidentally dropping it taking it out of the RB67), it looks as though it was a multiple exposure shot, when it was just one shot as a reflection.
- Gannon Burgett
---
Anniversary


This is from the anniversary of my mom kicking cancer's ass. I love this picture because it reminds me that our family will always have hope, just on the horizon.
- Jack Staples
---
Best Guess Focusing


I shot this more as a test to see if the automatic setting on my Pentax Spotmatic ES-II (from 1975) was metering properly and selecting the correct shutter speed. I set it up on a tripod and did my best guessing on the focusing. The lighting was provided by an old LCD monitor with the LCD part removed. (Asahi) Honeywell Pentax Spotmatic ES-II SMC Takumar 1:1.4/50mm lens Automatic Setting (Shutter Priority) Ilford HP5+ iso400 film Developed with Ilfosol3
- Rob Lennox
---
Unemployment


I was sitting in my living room watching TV and browsing Gizmodo (Another day unemployed as a Performer in New York City) when I noticed the sun setting over the city and I decided to run up on the roof and try my luck at a self portrait. I set up my Nikon D5100 with a Nikon DX AF-S NIKKOR 18-70mm lens on a tripod with the interval timer set to take a picture every second. This equaled dozens of pictures of me running to and from the camera and mistimed dance moves. I finally got the hang of the timing and got this picture. Dance is a huge part of who I am and a huge part of my career so it only seemed natural to include it in my self portrait. Exposure 1/250, f/8.
- Alex Pepper
---
Disneyland, Paris


Equipment- Canon Rebel t3i with Stock 18-55 Lens f/4 - 1/8th Sec - 25mm - ISO3200. Self Shot accomplished via placing the camera on the curb and angling it via some scarves under the barrel. Myself and my Fiancee wanted one last awesome shot of our trip to Disneyland Paris. Waiting until we were the last people in the park I had a Cast Member (Disney Employee) take a photo and I just wasn't happy with it. Her photo was great, just not what I was looking for. I tried placing the camera on a banister but it just wasn't working for me balance-wise. I thought to myself "The curb is way too low, but then an idea struck, a couple of scarves later and we had a nice angled shot lined up. Took about 3 tries to get what I wanted but here is the end result, no post processing done so its got some rough patches, but i feel that a selfie should be rough.
- Ben Adler
---
Gaze


I bought myself a new camera (and, at a friend's suggestion, a copy of Lightroom) for my birthday and I've decided to attempt a 52-week project to improve my photography. I image there will be more than a few self-portraits involved, and when I saw the Giz challenge this week, I figured why not start with myself. I've fairly familiar with Photoshop, but I know next to nothing of Lightroom. I hope to learn quite a bit from this. The picture was taken on a Nikon D7100, 24mm, f/3.8, ISO 100. I shot in RAW and applied a slight exposure adjustment, a couple of skin touch-ups, and cropped the image in Lightroom. I used Photoshop only to resize the image for submission.
- Robert Lee
---
Wood Grain


I kinda liked how it turned out. What with all the low light noise and the accidental sepia. I felt like one of those wooden face things on the Game of Thrones opening sequence. Camera: HTC Incredible S front camera (1.3MP) Focal length: 2mm? Photoshop: Only for size. Next challenge I wanna sign up for: Duck Face.
- Theresa Teng
---
Vertigo


Nikon D3200 Nikon AF-S DX 35mm F/1.8 ISO1600 F/1.8 1/30 Sec. On a night-time open tour of the Ohio State Reformatory in Mansfield, while others used dowsing rods and EMF scanners in search of ghosts, we hunted photos with flashlights, a flash and a camera. I met no apparitions, but seized the opportunity to capture this ghastly reflection of myself in a guards office mirror.
- Matthew Hamilton
---
"Smile!"


Camera: Canon T3i, Lens: Canon EF-S 18-55mm (55mm), ISO: 100, Aperture: f/7.1, Shutter Speed: 1/200. I had finally purchased a second flash and thought it would be cool to hold them for the selfie challenge. I used a Canon Speedlite and a Yongnuo for my two flashes in conjunction with my cowboy studio triggers. I set the camera and flashes to manual and adjusted the settings until I was happy with the exposure. Post-processing was done in Lightroom.
- Chris Medlar
---
From Above


Sony NEX-5N with a Sigma 19mm prime. 1/400th at f/8.0 with ISO at 400. This is a pic of my wife and I while we were on a shoot. We fly a radio controlled hexacopter with a camera and gimbal hanging underneath. Just as we were coming in to land I thought it might be fun to hit up a quick selfie for the contest. She is looking at a video downlink to frame the shots and I'm flying the hex. Here's a link to the video we shot while we were out:
- Thomas Brown
---
True Selfie


Selfie taken in the outer island of Burano in Venice. Used my trusty G12.
- Nathan Corn
---
Chupaca-bro


I went to Houston this weekend to run a 5k called El Chupacabra de Houston. The chupacabra is a folklore creature that is found primarily in the Americas. It's rumored to be a small beast that drinks the blood of livestock. (Chupacabra translates roughly to "goat sucker" in Spanish.) As with most legendary creatures, chupacabra are difficult to spot. Before we started getting ready for the race, I decided to channel my inner chupacabra and took this selfie in the woods. This picture was taken using a 5D Mark iii and the Canon 50 f/1.8 II. The shot itself was taken at f/1.8 with a shutter speed of 1/800 second. ISO 2500 was used. I took the shot using the ten-second timer and a tripod.
- Josh Weiss
---
Little Alice in Wonderland


That title was given to me by a lovely friend whom, by the way, was the one who pursue me to participate in this challenge, so, this is my first time, How exciting!!! I love the way the natural light changes pictures in a magical way. I have a huge window in my bedroom and I have the fortune to see the sunlight everyday. That morning the light was lovely so, in my pijamas and no makeup I started to take self portraits just for fun and ended up having my favorites selfies with no "duckfaces". I hope you like it too. It was so simple, I used my ipod and a filter from the instragram app.
- Holda Medina Ledo
---
Spiffy


This self-portrait was shot with my Canon T2i and 50mm f/1.8 lens with these settings: f/5.6; ¼ sec; ISO 800. The setup was the camera on a tripod, window light for lighting, and a plain white wall as a back drop. On the editing side, I just did a little touch up in Photoshop. I call this one "Bow Tie and Pencil Mustache." I had been growing my mustache for the last couple weeks and my wife hates it! I love it of course, and I wanted to document it while I still had it. I came across this contest and I was inspired by the awesome mustache of the guy in the example. So I trimmed mine down to a neat pencil mustache and took this picture. I enjoyed how it turned out and thought I would share.
- Dewey JT
---
Melons...Wait...Yeah, Melons


Had you announced the challenge one week ago, you would see a "winter me": sketchy, untrimmed beard and longish, not absolutely clean hair. But that is past, the summer is near, time for spring cleaning. So once I took out the t-shirt you see on the picture from the closet I already knew what it's gonna be about. I got onto my motorbike, packed Nikon 5100, 35mm lens, bought some lemons and melons (yes, I did juggle melons too!) and went sight-seeing around Montreal. On this cloudy day there was no problem with high-sun shadows. Still DOF is not too great because I wanted to capture the motion, while keeping the face sharp - f1/9 @ 1/50s proved the best setting. Last but not least, I had enough of sad B&W portraits, so I decided this one will be a happy one, even if a bit autoironic. So, I guess, the motto for this summer is: 'if life gives you lemons, learn to juggle them!' :)
- Kamil Politowicz
---
Burschenschaft


I used the front came of my htc One. The pic was shot with an exposure of 1/17 and ISO 160. It does fairly nice in dark settings and I must say I really like the distortion by the noise - as long as you can still clearly see the subject. The setting I chose is the place I spend most time - my workdesk. It is surrounded by the things a care for: my bass guitar, games, movies, music and mostly books. On the bass is the traditional cap of a German "Burschenschaft" or fraternity I am part of. The other important things you can't see still play a role in the picture, though: my screens provide the illumination and my PC's power LED the blue drop shadow. You even can get a climpse of the mess of papers I work with while studying. What this picture shows and what I liked in it is the reason I decided to use it in the contest: You can really tell al lot about someone just from one "selfie".
- Ramon Pallaske
Wonderful entries all around. I'd say that you were all brave to show your faces, but you're a good-looking bunch, so it sort of doesn't count! And in case you're a loyal Shooting Challenge fan who imagines putting a stranger's selfie as your desktop wallpaper, find the big shots on flickr.