Cortana is coming for you, Siri and Google Now. An integral part of Windows Phone—rumored to be making the jump to Android and iOS, and about to be everywhere with the launch of Windows 10—the personal assistant is fast becoming one of Microsoft's most useful apps.
Here are 18 of the best voice commands to show off her skills.
1. "What's the weather in...?"
Is AI Moving Too Fast? | Future Tech
Check the weather somewhere else if you're heading away or in your hometown if you're staying right where you are. You get the current temperature and conditions as well as a five-day forecast.
2. "How's my schedule looking?"
Find out what's coming up on your calendar with a simple voice query. Other agenda-related queries you might want to try with Cortana include "when's my next appointment?" and "when is Jane's birthday?" (if you know a Jane).
G/O Media may get a commission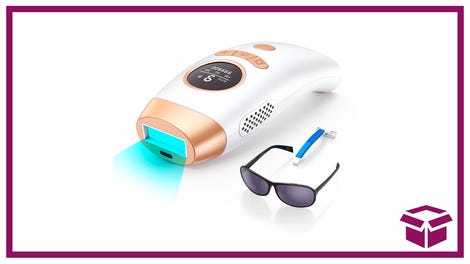 58% Off + Coupon
IPL Hair Removal Device
3. "Show me messages from..."
Can't remember when you're supposed to meeting your brother? Not sure what the instructions were from your boss? Ask to show all the messages to or from someone in your contacts list and Cortana duly obliges.
4. "Remind me at 2pm to..."
One of Cortana's best features is the way she can remind you to do something at a particular time, or in a particular place, or when you're communicating with a particular person. The content of the reminder is up to you.
5. "Wake me up in half an hour."
If you're about to doze off, the last thing you want to do is go to the trouble of actually opening up the Alarms app and going through the process of setting a wake-up call yourself. Let Cortana do it for you with a quick voice command.
6. "Get driving directions to..."
Like Siri and Google Now, Cortana is a dab hand when it comes to getting directions to wherever it is you're going, which open up in the Here maps app so you can access them. For extra precision, specify how you want to get there.
7. "What's the best... near here?"
You're stuck in a strange place with no one but Cortana there to recommend somewhere to eat, drink or generally make merry. Ask about nearby venues (from restaurants to bowling alleys) to show highly rated options.
8. "Show me the headlines."
When you first set Cortana up you'll be asked about your various interests, from sports to tech, and this command brings up the latest stories in your chosen areas—Cortana even reads out the top headlines for you.
9. "What song is this?"
All the digital assistants of our brave new world love doing a bit of song recognition on your behalf and Cortana is no different. Ask her to identify a tune and after a few seconds of listening the result should appear.
10. "What is three kilometers in miles?"
With the computing power of the web at her disposal, Cortana is pretty adept at answering any question that Bing can answer. You can throw in unit conversions, basic calculations, currency conversions and more.
11. "Play music."
Cortana can get the tunes started assuming you have some files stored locally on your handset. The "play music" command shuffles through everything that Cortana is able to find but you can also specify individual artists.
12. "Text..."
Whether you're driving along the freeway or holding a bag of groceries in your other hand, hands-free texting can be useful in many different scenarios. Say "text" followed by a name and your message and Cortana will do the rest.
13. "Who will win?"
You may have heard that Bing is pretty good at predicting sports scores based on previous data. You can ask Cortana to predict the outcome of a major game as well as look up fixtures and results for your favorite teams.
14. "Take a note."
Tell Cortana to take a note and she'll do just that: You can either wait for the prompt to appear on screen or just carry on speaking. The note you dictate is saved to the OneNote app installed on your Windows Phone handset.
15. "Turn off Wi-Fi."
Where Cortana does have the edge over Google Now and Siri is in the deep ways she can interact with your phone's apps and settings. With a voice command you can enable or disable both Wi-Fi and Bluetooth.
16. "Show me a picture of..."
Cortana's web search capabilities can come in handy for finding images as well as websites. Think you've spotted a Z-list celebrity in a restaurant? Get Cortana to bring up a picture of him or her so you can make sure.
17. "What's the status of British Airways flight 1386?"
Another area where Cortana can help you out is by checking whether your flight is on time or delayed. Speak out the name of the flight and its code, or just say "what's the status of my flight?" if Cortana is already tracking it.
18. "Where am I?"
If you've never woken up in a strange place missing a shoe then quite frankly you haven't lived. If your phone is still in your possession, ask Cortana whereabouts in the world you are and she'll pull up a map and an approximate address.