Our cameras have captured color for a long time, but we're all still obsessed with black & white. How could that be? Participants to this week's Shooting Challenge offer 180 reasons why:
Winner - Six Feet Under
I was out doing some timelapse shooting at a plane spotting location outside the airport at Zürich and a storm rolled which gave some very dramatic clouds and lighting. I call this one tree hill, reminds me of the tree from Six Feet Under.
- Nils
Dubai Metro
The Dubai Metro. A genuine breakthrough in modern engineering and design has been the best mode of transport in the city since 09.09.09 and its vibe doesn't seem to fizzle out anytime soon. Camera NIKON D300, Focal Length 18mm, Shutter Speed 2 sec, Aperture f/22, ISO/Film 200
- Arsh Sayed
G/O Media may get a commission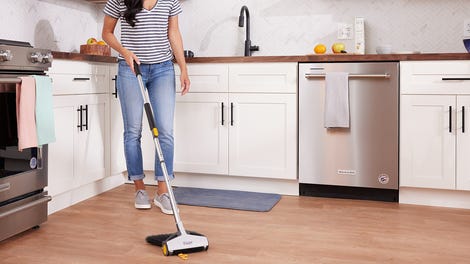 BOGO 50% Off
Flippr - BOGO 50% Off
Gothic Cathedral
My wife and I were hiking around the JV Fitzgerald Marine Reserve north of Half Moon Bay. At the top of a little hill above the tide pools is a cluster of trees arranged in neat, uniform rows. As I was walking through, I caught an angle that reminded me of the architecture of an old Gothic cathedral. The branches from the row of trees on the left seemed to stretch across to the trees on the opposing row. It was a foggy morning, so the dull colors made for a perfect B&W opportunity. Taken on 21 April 2012 at JV Fitzgerald Marine Reserve, Moss Beach, CA. Canon EOS Rebel T3i body, Canon EF-S 18-55mm IS II lens 18mm, ISO 200, f/10, 1/60 shutter, no flash, AWB, Shot in RAW, Edited in Aperture
-Chris
Caged Path
I am drawn to patterns and structure, and when I read the contest this week would be black & white, I knew this bike path running over the turnpike near Orlando would be my subject. I've ridden past it several times and thought "I have to shoot this someday". I headed out just at sunrise armed with my tripod as I knew my shutter speeds would be pretty slow. Compositionally, I knew I did not want to shoot low but that I wanted to be up at around 6 feet or so to be in the center of the structure.
I then shot 3 exposures and combined them in photomatix to even out the exposure and bring out more grunge out of the ground and fencing. I then did additional cleanup (adding contrast, straightening, and a little sharpening in photoshop CS6). Camera: Canon 50D, Lens: Canon 17-40 F/4L, Tripod: Induro AT-213, Head: Manfrotto 498RC2. Settings: f/8 focused halfway through the frame, ISO: 100, Shutter: Exposures at 1/50, 1/13 and 0.3"
-Ali Elhajj
Vietnam Veterans Memorial
I took this photograph at the Vietnam Veterans Memorial on the Mall. It was raining this afternoon when I took this picture. Even in the pouring rain, there were a few people at the Memorial paying their respects to their fallen family and friends. The rain on the stone wall and the pavement reflected the trees on the Mall and added contrast to the names on the dark stone wall. With the names of the fallen in white against the dark stone wall, I think the Wall is represented well in black and white - especially in the rain. I took this photo with a Nikon D90 using a Nikon 18-200mm lens at 18mm, f/5.6, 1/60s shutter speed and ISO 200. An on-camera Nikon SB-700 flash was fired with TTL.
- Mashuqur Rahman
Dead Trees
Shot along the Columbia Gorge on the Washington side on a fairly cloudy day. The lower tree was being overrun with ants- I took a bunch of shots of that, none of which really turned out. This picture was taken almost as an afterthought on my way out, an hour later. Sony SLT-A65V, ISO 100, 17mm, 1/2000 @ f/4.5
- Julian De Puma
Yesteryear
My wife and I frequently visit Disneyland and on our way to the park we always pass Ganahl Lumber. My wife loves to read their sign and the messages they put up weekly. She suggested I take a photo of it for the Gizmodo Black and White challenge. The black and white effect with this photo along with the message reminds me of the values of yesteryear. We agree with what's written on the sign and hope others feel the same too! Camera: Nikon d700, Lens: 50mm 1.4, Exposure: 1/8000 sec, Aperture: f/16.0, ISO Speed: 6400 (for some grain effect)
-Mike
The Giggles
My girlfriend needed new head shots quickly, so in a pinch (I've only been taking pictures relatively seriously for 4 months) we grabbed my camera, overall a fun experience. The wind picked up for about 15 seconds and I got 4 photos of her hair going crazy and her laughing uncontrollably. It was adorable, and those four pictures make me smile. This was my favorite. Should also note this was taken outside our apartment complex, which has the thinnest walls in the world, our neighbors were probably so confused. Taken with Canon t2i, Canon 50mm f/1.8 wide open at 1.8. 1/1600 shutter, 100 ISO, no flash. First time using my tripod.
- Mick
Train in the Rain
My wife and I are leaving New York and moving to the South next month. We've been trying to get to all of the things we kept meaning to do in the city before we go. We had spent Saturday in Brooklyn and Queens and were rushing from the bus to catch our Metro North train at Harlem 125th Street when it started to rain. We were a little melancholy about our move after a great day in the city and the rain added to the feeling. When I saw this train pulling away I thought it perfectly captured our situation and out mood. Camera: Canon T2i, Lens: Canon EF50mm, Aperture: f1.8. Shutter: 1/30. ISO:800
- Eric Mine
Spiral
Every few days I walk by this spiral staircase. I've photographed it before, but there are so many colors, lines, textures and some hideous orange duct tape that are just distracting when seen together. I've been tempted to go back at night and remove the tape from the ground but would have a hard time explaining that to security. When I heard of the Black and White challenge I knew just where to go. Shot with a Canon 7D, Sigma 10-20 mm lens, ISO 250.
-Patricia Misakian
Dog? Dog. Dog?
Canon EOS T3, ISO 800 50 mm 0EV f/0 1/60, RAW converted to B&W in iPhoto
- Brad
GUGGENHEIM
I had planned to visit the MET Museum this day but instead ended up in Guggenheim. I took this picture, while I was waiting outside the Guggenheim and was admiring the work of Frank Lloyd Wright. I used my Nikon D3000 with 18-55mm lens to take this photograph.
- Reshav Malla
Gibraltar
I took this shot today while visiting the rock of Gibraltar with my family as part of a Mediterranean cruise. I took this photo at about 7:00AM just as the fog was starting to clear so I got that swirling cloud effect. Photo taken with a Casio EX ZR-100, at ISO 100, f/3, and focal length of 4.24.
- Jacob
The Bus Station
Montreal's recently redesigned bus station. Because of the classic typeface, I decided to aim for a noir-inspired look. The flares around the headlights/streetlamps are a side effect of a long exposure at a really narrow aperture (f/22). D300/Sigma 10-20. 5" @ f / 22 (ISO 100).
-Evan
Freaking Heroes
This fire was too amazing not to share. These guys are freaking heroes.
- Diego Jiménez
As always, the entries have exceeded my wildest expectations. There were so many great shots that you've got to check the galleries below. We'll have high-resolution images on Flickr in the coming week. Look out for the next Shooting Challenge tomorrow.