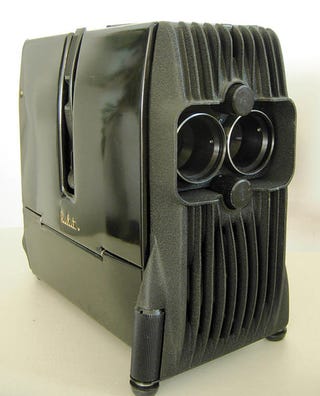 I first saw this 1950s projector when I was a kid. He was evil, he killed that Old Dude, but at the end the Goodguys blew up his Badass Star. It comes without its black cape and lightsaber, but works.
The Stereo Realist Model 81 3-D Slide Projector was manufactured in 1950 by the David White Sales Company of Milwaukee, Wisconsin. It has dual lenses—with 3.5" focal length, f.2.8 aperture—and runs on two 500-watt bulbs which are cooled by two separate fans.
Not old school enough for you? Fear not, my dear readers, for you have to feed two slides at a time into this thing—to create amazing stereo images—by hand: There's a slide tray on the top of the projector, with a rotary carrier that pushes the slides when you activate the handle on its back.
Darth Vader is now for sale on eBay, and I wouldn't be surprised if the great Ralph McQuarrie owned or saw one, once upon a time. [eBay via Star Wars Blog]