When people talk about how to write a great story, you hear a lot about structure, and how to lay down the track so that the audience is swept along. But writer Frank Cottrell Boyce has some fantastic advice about the true secret of writing a story (or movie) that people can't get enough of: make it a collection of great "bits."
I came across this 2008 article by Boyce back when he was writing for Doctor Who last year, and it's stuck in my mind since then. This list of writing tips mostly got attention for the way he said "forget the three-act structure" — because people are obsessed with the three-act structure, and whether it's overused.
(My take? It's fine, as long as you define the three acts as "beginning, middle and end," and don't get overly proscriptive beyond that. It's true that most stories have a beginning and an end, and some stuff in between.)
But the part that stuck in my mind about Boyce's essay is two other comments he makes: "The manuals emphasise the flow of a narrative, but it's better to think of a film as a suite of sequences. That's where the pleasure is." And: "Emotions create their own suspense." I've started to feel as though those two statements, together, contain a key insight about the magic of storytelling.
G/O Media may get a commission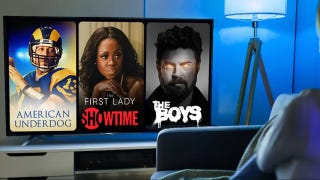 UNDER $1
99¢ Prime Video Channels
Because a really great story is one that brings you pleasure as you're reading it, and doesn't just make you wait for the cool thing that's eventually going to happen. If there's one common problem that I've noticed in a lot of my own work, and also in some books and other types of stories that have underwhelmed me, it's the sense that the writer is just trying to move all the pieces in place for the payoff down the road. Or that the mechanics of the story are being privileged over making each moment as juicy as possible, on its own.
What's the worst that can happen if you think of your story as "a succession of great moments strung together"? Well, it could be kind of incoherent. At worst, the story might actually not make sense, or contradict itself. Those are things that might need to be fixed in the rewrites — but they're easier problems to fix than a story that's lifeless except for a few turning points.
And this is where the second statement, "emotions create their own suspense," comes in. If the characters and their emotions are consistent, then each "great moment" will absolutely feel connected to the next. Because the characters will keep caring about the things they care about. If your characters don't have strong emotions, and things that they obsess about or desperately want, then no amount of careful brick-laying will make this a good story.
And really, here's the root problem: When you're hammering out a first draft, you will write a lot of boring scenes, because you're trying to find out where the "juice" of the story is. And often, after writing a dozen boring scenes in which people shamble their way through dull interactions, you hit on one scene where the characters are sparking, and they suddenly feel alive. That scene is a keeper, at least for now.
When you hit on a sequence that's fun or intense or dramatic on its own, you're not just creating a great standalone moment. (Or a "darling" that you're going to have to kill later.) You're — hopefully — finding the place where your characters are the most alive, and the most present in the moment. You're finding the version of the story that's most vivid to you personally, which connects the most to the reasons you wanted to write about these people or this world in the first place.
For years, I had trouble with "slow parts" or dull-but-necessary moments in my fiction, especially the novels. One time, years ago, I showed a novel draft to my critique group, and my friend Claire said, "a lot of this section feels as though you're looking for cellphone signal and you just don't have enough bars." Like, I was trying to keep moving the story forward, but meanwhile the actual moments in the story were getting less vivid and memorable on their own.
Since then, I've tried harder to focus, when writing a first or second (or third) draft, to come up with individual moments that feel vivid and fun, and most importantly exciting, on their own. I still try to make sure I know where this shit is going, or have some kind of ending in the back of my mind, but it's much more about having each individual moment "pop" for me.
And here's one way of thinking about this stuff: in real life, we don't know what's going to happen yet (most of the time), and we can only experience things in the moment. For your characters, the scene they're in isn't just a node on the plot, but something that's happening to them at the time. (Although they may be anxious to be doing something else instead, or anticipating something they know is coming.)
And again, the idea of building suspense through emotion is key — because if the characters are worrying about what's going to happen or how they'll achieve their goals, then the plot has a sense of forward motion no matter what.
Sure, if the story just contains a series of "cool moments" that don't have that much to do with a coherent narrative, or even feel like they belong in the same story, then you've got some rewriting to do. But you'll have some rewriting to do in either case. And at least this way, you've got a bunch of memorable scenes involving your characters — plus if you've paid attention building suspense through emotional engagement, then there will be a through-line in the minds of your characters.
And worrying about the plot making sense is often a problem left for later drafts, unless you're writing an intricate thriller. I'm a huge fan of outlining, and one thing that I am big on is outlining the story from the point of view of the antagonist. Make sure all of the "villain's" decisions make sense from his/her/its point of view. (Maybe this'll be a subject for a future one of these columns.)
Other things that you can focus on in the later rewrites of your story: making sure there's a consistent tone, and that there's connective tissue between the big moments in your story. Connective tissue is another thing I obsess about a lot, and what this means to me is having small moments and touches that lay the groundwork for each turning point. In particular, the relationship between two people shouldn't progress from A to D, without at least touching on B and C along the way. Sometimes you need to go back on the ninth or tenth rewrite to make sure there are strong links between every individual moment.
But that's for way later in the writing process. If your first couple of drafts consist of mostly just great individual scenes that are beautiful moments in their own right, then you've got a strong foundation to build on — especially if the characters' emotions are also pressing and consistent throughout.
Pulp covers via Glenn Harris, McClaverty, Boy de Haas, toyranch and Steve on Flickr.