Maybe it's better that most of us don't remember every part of New Year's Eve (basically, from 5PM on). If you're suffering from alcohol-induced amnesia, here are 25 happier Shooting Challenge shots to fill the void.
The placements...
Second Runner Up


Nikon D40x on tripod. AF-S Nikkor 18-55mm stock DX lens; F6.3; 8 seconds; Color corrected in camera raw. Motive: Stockholm cityscape with city hall in center.
-Andreas Hellqvist
First Runner Up

G/O Media may get a commission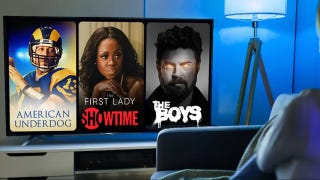 UNDER $1
99¢ Prime Video Channels

The morning after. The image here is a stereographically projected panorama consisting of 90 separate exposures. As you see it's not complete, I had intended it to be 360° by 180°, however by the time I got to just over the houses, I lost all feeling in one of my fingers and decided to go have a pizza instead. This is also why my bag and parts of the tripod is visible on the ground; I couldn't grip the camera to shoot a straight-down shot. (Temperature at the time was somewhere around -20°C) Gear used: Canon EOS 450D camera, Canon EF 28mm f/1.8 USM lens at f/7.1 (I shot in apperture priority mode, so shutter times vary), Manfrotto 190xprob tripod with a 804RC2 three-way head. (For you who want to get started in shooting so called planet panoramas, this head is not a particularily good choice because it doesn't give you 180° freedom up and down, but you can flip the camera mount plate to put the entire camera "backwards" and so shoot straight up.) The images were converted from raw to 900x600 size jpegs and then stitched in Hugin. Incidentally, if you do the math you'll find that quite a few of the images are not overlapping by a whole lot which caused the autopano sift-c routine to misalign quite a lot of it. Total time to find control points to fit it all together was around four or five hours. To be fair, this is a failed picture, but it looks rather nice, so perhaps you'll enjoy it too. Next time I wait til it's a little warmer :-)
-Staffan Thomen
Winner


Photo taken on new year's eve. It's apparently underexposed (said my camera) with 1/2000s with my 5DmkII at ISO6400 with my trusted 50 mm lens at f/1.4. This is a handheld shot taken for fun with no clue what might turn out. I kinda like the sparks of iron flying. I increased the contrast and black levels in lightroom 3b to get rid of some of the noise.
-Øystein Alsaker
Thanks to everyone for entering. New Shooting Challenges are announced every Wednesday, and we need/appreciate your participation!
Gizmodo's Shooting Challenge is a weekly opportunity to dust off that fancy dSLR and experiment with hundreds of others in a new photography theme announced every Wednesday. May the best shot rule the internet for a week!
You can easily follow Gizmodo's Shooting Challenge on Facebook: Facebook.com/ShootingChallenge