There's nothing worse than being stranded at the beach with a dead battery. But this summer, thanks to a pilot program sponsored by AT&T, no New Yorker will go without Snapchat again. The program will install 25 charging stations across the city, including parks and beaches, in a Parks Department-approved strategy to improve public infrastructure in New York.
The towers were designed by Pensa, a Dumbo-based industrial design studio, which has actually been working on similar concepts for several years. The new AT&T kiosks grew out of an older idea from a few years back, which proposed retrofitting NYC street signs with a solar-powered charging station. The idea—which Pensa called Street Charge—made waves, and last summer, the studio was invited to realize it on a small scale, in a park near its office in Dumbo. Rather than retrofitting street signs, though, Pensa added solar charging stations to a series of sun umbrellas on a sliver of public land near the Brooklyn Bridge. The program was a huge success—and it ostensibly provided valuable feedback for the final design.
Yesterday's announcement, then, represents the latest evolution of their experiments. The tech itself is provided by Goal Zero, the portable solar power startup, while Pensa was responsible for the design of the stations themselves. It's easy to see an echo of the original Street Charge design here: Three gently curving photovoltaic panels sprout from a tall lampost-like column, while at hip-height, the pole deforms to create three individual charging docks (each with a micro- and normal-sized USB port). The stations are lasercut with the AT&T logo, of course. According to The New York Times, the 15-watt PVC panels can operate through five days without sunshine (or one night), and 30 minutes at a station will glean a 30 percent battery charge.
While the test phase will only include 25 stations, eventually the program could expand across the five boroughs (and into other cities). And it isn't just good advertising for AT&T: apparently, it's all part of a grand strategy to increase data usage across carriers—in an age when most of us are eschewing actual phone calls for gratuitous Emoji and GIFs, a service that enables us to keep spending on data is also a valuable business tool.
G/O Media may get a commission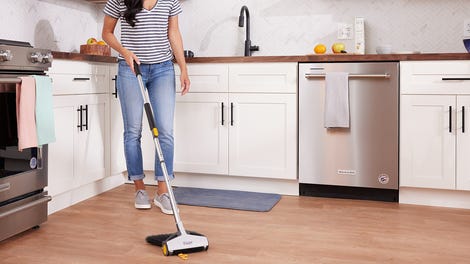 BOGO 50% Off
Flippr - BOGO 50% Off
Images of Pensa's original concept for retrofitting street sign posts:
Street Charge from PENSA! on Vimeo.