For this month's Video Challenge, we asked you to play with video reversal - backwards playback. What did we learn? You're obsessed with coffee and the word "love." Of course, coffee made it to the finals while love did not.
Lead Video and Winner - Coin Trick
Shot on Panasonic GH1 at 60fps, conformed to 24p, edited in final cut pro. Shooting the coin was challenging- shutter speeds, shallow depths of field, and different frame rates were all interesting variables to manage while shooting with natural light. An elusive subject, it made for a fun shoot.
-This Motion
The Usual
Here I am, once again submitting a coffee-themed Gizmodo Challenge entry. I'm clearly obsessed. I find reverse video a great way to display a process in an interesting way, particularly when combined with time remapping and a single cut. A great deal of footage can be packed into a very short amount of time, while still allowing emphasis on the most interesting parts. The final product is featured first in the video, followed by the process of its creation, ending by putting the entire thing in context. The process in this case was the creation of my morning cappuccino.
G/O Media may get a commission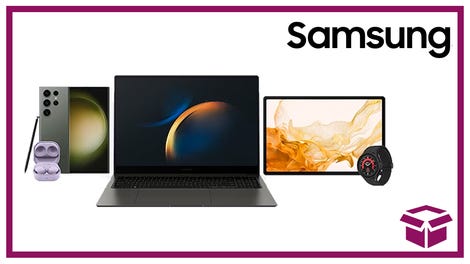 24 hour deals
Discover Samsung - Daily Deal
The staff at Comet Coffee here in Ann Arbor was nice enough to allow me behind the counter with my camera before they opened on Saturday morning. The entire process was captured in a single take, starting with a friend filming another friend walking into the shop. He passed the camera over to the counter to me (waiting at the cash register), and I filmed over the barista's shoulder as he made a cappuccino from beginning to end.
Initially I planned to film this on a Canon 7d for its more forgiving depth of field and extra slow 60 fps, but it wasn't able to handle the low light of the early morning. I ended up filming on a Canon 5dII, using the excellent 24-105 F4/L image stabilized, along with a Zacuto Z-Finder and Target Shooter. Settings were 1600 iso, f4, 30 frames per second, and 1/30 shutter speed. Editing was done in Adobe Premiere Pro CS5, and color grading was done with Magic Bullet Looks. Just for the record, let me say that time remapping a single 2 minute clip like this is a nightmare in Premiere.
- Charlie Dwyer
Water Drain Reverse
Shot on a canon 7d using a 50mm 1.4 lens 1280x720 60fps, reverse speed from -20% to -250%, iso 3200, shutter speed 1/8000, f/1.8
- Brian Tom
Reverse Engineering
I wanted for my video to reverse the action without reversing the time continuity. To do so, I decided to shoot all my scenes in reverse and re - reverse them in post. Obviously the spinning top conception was only reversed once: in post.
I used a Canon 550D / T2i with a Sigma 30mm f/1.4 for all my shots and edited the final piece in Premiere Pro CS5. Produced by: Claude lee Sadik, Music from: Bob Crosby - Big Noise From Winnetka, Assisted by : Anna Lee Maldonado, Actor: Jacques Sadik
- Claude lee
Phoenix Wax
The video of the hourglass, the light up, the light down and the smoke was shot with an iPhone 4. The Candle time-lapse part was shot using Canon EOS 40D, with a 20mm/F2.8 lens.
I used my iPhone as an intervalometer for the 40D, with the DSLR Camera Remote app.
The iPhone videos are in 720p and the time-lapse was saved with a lossless resolution, so I have a pretty big video of 36 seconds (approx 10Go) @3888*2592. My computer was really crying during the rendering process.
All the time-lapse images were processed with Adobe Photoshop Lightroom to make the background look like an untouched dark, I used Premiere Pro to reverse, put all together, and make pan & zooms on the time-lapse part… The result was pretty amazing.
The hardest part for me was to find ideas, it's actually pretty hard to imagine something reversed without using slow-motion, and since I don't have the necessary material, I decided to make a time-lapse.
The candle for me was the best way to make something unusual, like something that is built from scratch by the fire.
The hourglass acts as a video progress-bar, but reversed. I wanted to play with gravity and fire.
I also want to mention every piece of hardware and software that allowed me to make this happen : Apple for the iPhone 4, Canon for the 40D, ononesoftware for the iOS DSLR Camera Remote, Adobe for Lightroom and Premiere Pro. Thanks guys. Music : "Theme" from Jon Brion
- Martin Lequeux
Un-Painter
Wasn't sure what to do for this challenge; shot lots of footage of bowling, the cat and the woodstove. In the midst of skim-coating my kitchen, I decided to do some color tests for possible wall treatments. And I thought that seeing the paint lift off the drywall could look neat. 45 minutes of shooting and a few hours of editing later, this is what i came up with.
It's O.k. Originally was cut to run 1:45, but after being sped up, doesn't work quite as well. Something funny about the aiff I exported from the MIDI file makes the soundtrack get trimmed instead of pitch shifted. I had fun making it regardless. Not sure I'll end up using those colors in the kitchen.Nikon D7000 w/ kit 18-105 @ ISO 500, various apertures.
-Brendan Eaton
Chasing Smoke
First of all, I gotta say don't smoke. It'll kill ya dead! There was a lot of trial and error involved in shooting this. Getting the cigarette to burn properly was an issue and then processing it at a high enough resolution was a whole other problem in itself because of the lack of ram in my computer. I decided to go with the cigarette because I wanted to capture something burning, I figured the results of the cigarette regenerating from ash would be pretty impressive. I was surprised to see how much the cigarette moved around upon completion of the video. I hope you enjoy it. Thanks for watching. Equipment: Nikon D700, NIKKOR 24-120mm f/4G ED VR, Post process: Adobe premiere, Song: Elaquent- Chasing Amy,
-Ryan Emond
Some great entries this month—kudos to those of you who really developed a simple idea into multiple cuts, angles and timing with music to create a greater effect.
Mark Wilson is the founder of photography blog Life, Panoramic as well as Philanthroper, a daily deal site for nonprofits.